The global suspension of professional sport has been one of the most visible consequences of the coronavirus pandemic. For more than three months, stadiums built to house tens of thousands of people have lain dormant as social distancing measures take effect across the world.
Understandably, the focus among governments has been on containing the spread of COVID-19, ensuring that health services are not overwhelmed and that the economic impact of these measures does not result in hardship for any individual.
In this context, sport doesn't matter. But to paraphrase a famous quote: "Of the most unimportant things, sport is the most important." The return of sport will not only provide entertainment to people during lockdown but also offer a sign that life is slowly returning to normal.
Athletes and sports organisations have been challenged by the pandemic in the same way as people and businesses. And just as technology has helped us communicate, work, and play during lockdown it has provided the sports industry with a way of adapting to the new normal.
The broadcast dilemma
Sports broadcasters have been particularly hard-hit by the lockdown as the absence of live action has made it difficult to populate programming schedules and generate advertising revenues. Meanwhile subscribers have demanded refunds or temporary reprieves.
Archive content and documentaries have helped fill the void but broadcasters have been looking for technical solutions to create new live programming that can attract viewers without jeopardising staff safety.
BT Sport has created a 'virtual studio' that disaggregates various production elements, such as audio, vision, and mixing to the homes of its crew. Meanwhile, on-screen talent can film themselves on anything from professional-grade cameras to a smartphone. All feeds are carried across commercial broadband and mobile networks, with a skeleton crew working in the studio.
The channel has already trialled remote production in non-league football, using 4G to transmit pictures from wireless cameras back to the gallery where they can be processed. The virtual studio concept can be viewed as an extension of this. The techniques have enabled BT Sport to create live programming based around its portfolio of television rights.
"Sport is something that brings people together and people are still looking for escapism," explains Jamie Hindhaugh, BT Sport COO. "What I wanted us to do was create programming that still made us relevant.
"The welfare of our teams normally based at the studios was paramount so we needed to restrict the people who actually went to the studio," explains BT COO Jamie Hindhaugh. "Social distancing is a challenge in an outside broadcast truck or gallery so unless we could actually solve these issues then I wouldn't sign off on any new programming.
"The challenge has been getting the virtual studio working and adjusting it. Our teams are used to working in a live environment next to each other but now have to take into account possible delays in communication.
In the long-term, BT Sport believes the virtual studio will increase diversity within broadcasting as potential recruits will not have to commute to a London studio or to outside broadcasts to have a career in the industry. Creatively, it could transform broadcasting.
"I am really keen that as an industry we become more open. Anything we do is not a short term fix and everything has a long-term relevance. This is bringing the linear and digital worlds together at a faster pace and I think this will push personalisation. Challenge enhances creativity.
The German Bundesliga was the first of Europe's major football leagues to resume competition and is being produced remotely. Some talent is present in the studio, socially distant of course, while commentators are describing matches from the comfort of their homes. One commentary was almost interrupted by a supermarket delivery!
If those of us working from home can relate to that incident, the PDC Darts At Home (professional darts corporation) tour provided another example of a remote working pitfall affecting athletes. The competition saw 128 of the world's best players compete remotely but unfortunately one player was disqualified because his home Wi-Fi connection wasn't fast enough.
In venues where sport is permitted, there are strict limits on the number of people that can be present – including camera crews. For a sport like snooker, where a single camera can pick up all the action, this isn't an issue. For others, it's a little more challenging. Automated cameras, such as those deployed by UFC (Ultimate Fighting Championship) for mixed martial arts offer more dynamic viewpoints.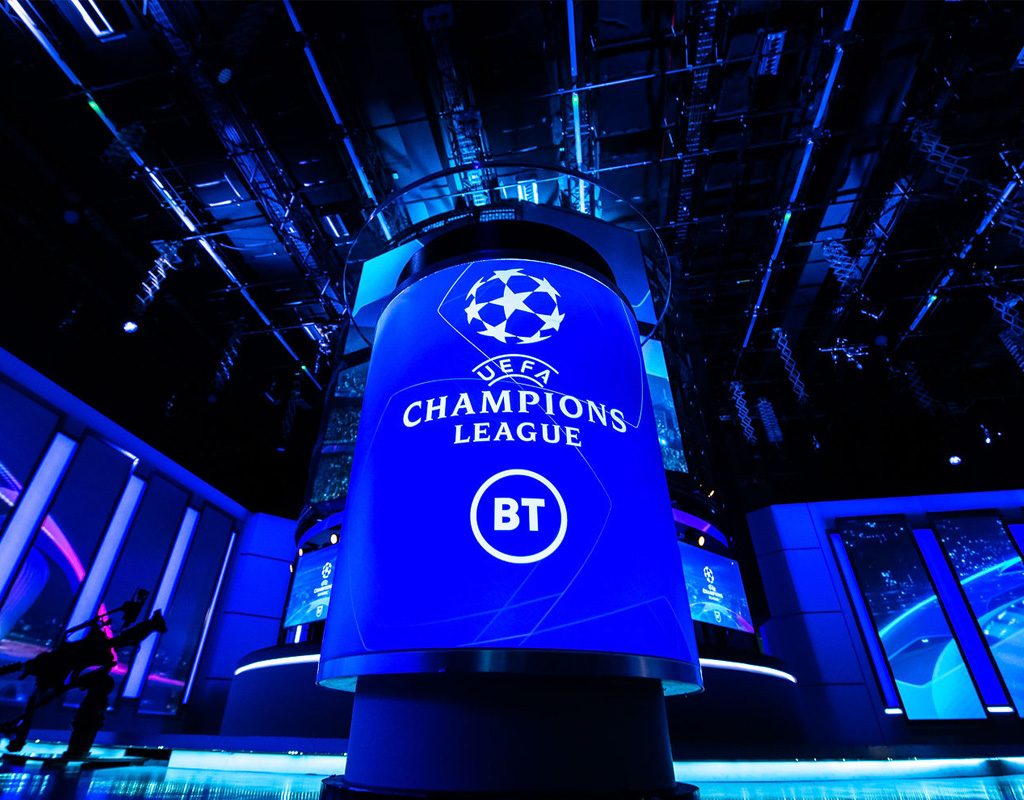 Recreating the atmosphere
But if remote production has helped to solve the issue of getting sports content onto our screens, then the technical solution for replicating a stadium atmosphere has still yet to be found. Behind-closed-doors events are a very different televisual experience without the sights and sounds of the crowd.
Some sports are pumping crowd noise into the stadium while broadcasters have been adding in effects during production. This method is in evidence during transmissions of Australia's National Rugby League.
Augmented reality and artificial intelligence (AI) could offer more dynamic and real-time fan participation. OZ Sports' Arena platform allows fans to create an avatar via a mobile application that can then be overlaid on empty seats or used to create an entirely digitised stadium. Fans can also cheer their team on via the app, with audio intelligently aggregated and synchronised to sound like a real crowd. Although traditionalists may scoff at the idea, OZ Sports believes the technology could allow sport at any level to feel like a World Cup final.
"Fans in stadiums are the heartbeat of live sports, the passion and atmosphere is needed for the field of play," says Gudjon Gudjohnsson, OZ Sports CEO. "The rivalry and chants are what create the storytelling. OZ Arena offers a way to overcome the current challenges of empty stadiums but also a way to bring a remote audience into the stadium from anywhere in the world; it makes the fan experience more exciting."
Denmark has been an unexpected source of innovation in terms of fan engagement. FC Midtjylland is adopting 'drive-in' football where fans can watch matches on a big screen from their car and listen to commentary through a special radio network. The idea is that fans would be able to experience the social element of attending a match safely.
Meanwhile, rivals AGF Aarhus have created what it claims are the world's first 'virtual grandstands'. Giant screens erected around the perimeter of the pitch show the faces of fans who have dialled into a special video conference on Zoom.
Virtual sports
But not all competitions are able to return as planned and many have been postponed or suspended. The biggest event of them all – the Tokyo 2020 Olympics – will now not take place until 2021.
Virtual sports have been used to provide an idea of what might have happened if these events had gone ahead as planned. Whereas eSports are essentially competitive video games with humans behind the controllers, virtual sports are based on real-life data and algorithms.
Huge amounts of performance data is already collected by clubs and federations to help athletes tune their performance and to engage fans through digital services like mobile applications and through broadcasts. This treasure trove of insight allows AI to crunch metrics like athlete stats, weather conditions and historical results to provide a realistic result.
Bookmakers and sports data specialists have high hopes for the technology. Because virtual sports are played out in real-time, punters can make 'in-play' wagers just as they would do during an actual sporting event. Meanwhile, advances in graphical technology mean these simulations are easy on the eye and more likely to attract the interest of gamblers. An additional advantage for bookmakers is that they can hold these events at any time of day, enabling them to accept bets around the clock.
The most high profile example of virtual sports so far is this year's Virtual Grand National. Held each April, the Grand National is the UK's most popular horse race and attracts a huge number of casual gamblers who might make their only wager of the year.
The Virtual Grand National has been a feature of ITV's coverage for the past couple of years. It combines state-of-the-art CGI technology with AI to produce a real-time virtual race, taking into account form and track conditions. But since coronavirus ended any prospect of the world's premiere steeplechase from taking place, the Virtual Grand National assumed main event status this year with bookmakers taking bets – all profits of which were given to charity.
Social outreach
Television has proved a useful route for sports organisations to engage with fans during this uncertain time but most are maximising the impact of their own channels during the crisis.
Social media has been critical for fan engagement and disseminating important information, according to Tom Rowell, head of marketing and ticketing at Everton FC: "Social is so important at the moment because there's no football or ground to go to. What clubs have done over the past few weeks has been great, such as pushing out messages to stay at home or exercise content. Social media is great to engage fans quickly and easily."
Off the pitch, sports clubs and federations are increasingly data centric organisations collecting huge amounts of information about fans. This ranges from commerce platforms such as ticketing and merchandise to online services like apps and websites. Normally, this data is used to help organisations understand their fans better and maximise the effectiveness of marketing and commercial arrangements through big data analytics.
However during the pandemic, some football clubs have been using this data to identify fans at risk or in need of a morale boost. Everton manager Carlo Ancelotti has made phone calls to some supporters, while the club has also engaged in various charitable and volunteering initiatives.
Social media has proved particularly effective for distractions, especially eSports tournaments on YouTube and Twitch. The F1 Virtual Grand Prix series has gained significant traction, pitting racing drivers, professional gamers and celebrities against one another on live television. The Premier League has its own eSports tournament while 128 clubs from across the world participated in a FIFA tournament organised by Leyton Orient's social media manager.
Meanwhile, Skateboard England was forced to cancel its national championships and instead allowed anyone to enter a 'virtual event' by posting a video of themselves performing a trick on Instagram. Sadly, Olympic qualification wasn't at stake in this particular instance.
Remote training
The impact of technology during coronavirus isn't just limited to off-the-field activities. Despite the cancellation and suspension of competition, athletes still need to keep fit and train so that they are ready and raring to go when the time is appropriate.
Training at an elite level is already a data-intensive environment. The collection of performance and fitness data has been accelerated by the adoption of wearable technology and analytics platforms that turn this information into actionable insights.
This allows coaches, medical teams and sports scientists to devise and optimise personalised training schedules and fitness plans for athletes. And because this data is increasingly being aggregated into centralised cloud-based platforms, coaches can send this analysis, along with relevant video footage, to an athlete's own device. This allows the athlete to review the insights at their leisure and ensures that the coaches have empirical evidence to support their observations – increasing the likelihood that the advice will be taken on board by the individual.
The fact that these systems are in place means at least some sort of semblance of normality can be maintained during lockdown. But for team sports like football and rugby, replicating the ability to train with teammates is a little more difficult. Although restrictions on group training are easing around the globe, it is likely that this will extend only to small groups for the time being. Virtual Reality (VR) technology could be the answer.
Rezzil allows footballers to participate in VR training sessions and match situations from the comfort of their television. The user wears a headset and places sensors on their feet, providing haptic feedback that replicates the feeling of kicking a ball. Some clubs have these installed at the training ground, but COVID-19 means some players are putting them in their living room. Naturally, this data can be fed back to the clubs.
"We've certainly seen an increased demand with players from the Premier League, [Mexico], MLS and more all requesting home kits," says Andy Etches, sports director and founder of Rezzil. "Players are looking to use the platform to keep their minds sharp and practice game style decision making.
"Many teams we've talked to have asked us to look at ways we can help to mitigate issues caused by reduced group time beyond the pandemic. We've designed special systems for individual tactical sessions to address this and are seeing some great results."
Like the rest of society, it could be a while before the sporting world returns to normal. Until then, technology is helping to make the experience of watching and playing as safe and practical as possible. But in many ways, the pandemic is simply accelerating the technological revolution that was already taking place within the sporting world.
Some of these innovations could be here to stay, forever changing sport as we know it.
"Sport is something that brings people together and people are still looking for escapism." Jamie Hindhaugh, BT Sport COO
"Fans in stadiums are the heartbeat of live sports, the passion and atmosphere is needed for the field of play."
"Clubs have been great, pushing out messages to stay at home or exercise content. Social media is great to engage fans quickly and easily."
"Players are looking to use the platform to keep their minds sharp and practice game style decision making." Andy Etches, sports director and founder of Rezzil