Despite all the hype about remote work, Big Tech is still clearly invested in big bricks – and so are its younger workers.
Facebook may be joining the metaverse, but that hasn't stopped its parent company Meta from opening swanky new offices in the real world. Meta's new UK headquarters opened last month in King's Cross, London, where on its doorstep Google is building its own British HQ for the regal sum of $1bn. Despite all the hype about remote work, Big Tech is still clearly invested in big bricks. 
That said, the future of work is likely to see five days a week in the office become a quaint relic for the next generation of workers. For white-collar staff in major cosmopolitan cities like London, COVID-19 may have already brought forward a mass redundancy of physical workplaces. 
The desire for a post-office status quo is hard for enterprise tech to ignore. A 2021 Gartner survey of knowledge workers revealed only four percent of those currently working remotely or in hybrid preferred to return fully on-site.
A 2020 survey from Citrix meanwhile found 60 percent of employees aged 18-40 would want a hybrid work arrangement going forward. 
Case closed? For younger professionals, not quite. According to a 2021 survey from Generation Lab, 40 percent of recent graduates and students prefer to go to a physical office over remote work. Another survey from Sharp Europe revealed over half of staff aged 21-30 stressed the importance of being able to meet and work with colleagues in person again. As reported by Bloomberg, the same survey saw nearly 60 percent say working in a modern, friendly office environment had become more important to them during the pandemic. 
Young professionals therefore present a business case for new builds. But as various new offices in the tech space are demonstrating, that doesn't mean any old workspace will do, whether for greenhorns or a more seasoned workforce. 
Take SAP and its new London offices unveiled last autumn. Located in the Scalpel skyscraper in the City of London, SAP's new UK presence places workstations in an open environment kitted out with sofas, meeting areas and walls adapted for marker pens and brainstorming. 
A lot of the space encourages hotdesking, with long desks by windows looking out onto the Gherkin, or booths in which one usually finds themselves served with a coffee (or a burger with actual gherkins). 
40 percent of recent graduates and students prefer to go to a physical office over remote work, according to a 2021 survey from Generation Lab
"You will always find the Scalpel office busy with colleagues now restrictions have eased," says Avalon Ridler, presales specialist at SAP and a council member of the ERP Today Young Professionals Network. "It's the perfect place to meet and work together on projects or just catch up with colleagues. Personally, I really like the relaxed, open layout, combined with little private spaces for calls and meetings too."   
"We designed a flexible layout which was able to support varying ways of working," confirms Michael Roper, vice president of global real estate and facilities at SAP EMEA. "The layout focusses on the four Cs – collaboration, community, communication and concentration. We have surveyed our employees (and) they are seeking much higher emphasis on meetings, brainstorming, design-thinking and socialising, and the new office space supports these activities."    
Roper tells ERP Today that the office reflects SAP's attempts to offer "the great flexibility and experience desired" by current and next generations of talent such as Ridler.  
Flexibility has also driven similar 'future of work' offices from Deloitte, as unveiled in Newcastle last month. The professional service giant's Trinity Gardens footprint came after a Deloitte employee survey showed almost all staff wanted to have the freedom to choose how flexibly they will work. 
In addition, 86 percent of respondents ranked 'collaborating with team colleagues' and 'interacting with others' within their top three ways they envisaged using the office.   
These factors, all important ones for young professionals keen to network and learn the ropes, formed the main design principles of the Deloitte office. Out, therefore, went traditional desks, to be replaced with flexible touch-down working areas and 360-degree cameras for all-inclusive meeting experiences.  
"We designed a flexible layout which was able to support varying ways of working. The layout focusses on the four Cs – collaboration, community, communication and concentration"  Michael Roper / SAP
Having employees guide workplace design is becoming fashionable as companies try to stem the tide of the Great Resignation. Dutch architecture studio UNStudio for example holds pre-planning consultations of what employees want from a new or redesigned workplace. This information is then used to create various design scenarios merging the user experience, the spatial organisation and the management of the building, including energy use, health-related solutions and the social component of work and collaboration. 
"This has influenced the design of these spaces in multiple ways, as more than ever before, the design of the workplace now has to have its basis in the user experience," UNStudio reveals. "Basically, workplace design today is increasingly based on bottom-up input." 
Instead of dispensing with offices entirely, it's likely enterprise tech brands will pivot in the same direction as SAP and Deloitte. Creating flexible workspaces via consultation with their workforces will become the norm.  
Either way, having an office remains a status symbol for any big company; it is also an essential item to have on the books, as it were, especially if investment or bank agreements require some kind of physical presence. 
But, as other projects demonstrate, real estate is working just as hard as big brands in keeping technology – and young tech workers – chained to the desk in a post-pandemic world.  
The future of co-work 
Co-working: it's not as hip as it used to be. Never mind all the talk of remote work becoming the norm; there's also the little issue of co-working poster child WeWork and its spectacular fall from grace. Those bad vibes were brought back to public consciousness by a recent show dramatising the decline of WeWork on Apple TV. Its title? WeCrashed. 
But co-working spaces are far from crashing; in fact, some have boldly sprung up during the height of the pandemic and beyond. 
Take Brighton co-working venture Plus X. As launched in summer 2020, the swanky looking new build offers not just offices but also technology facilities and innovation labs. 
86 percent of respondents ranked 'collaborating with team colleagues' and 'interacting with others' within their top three ways they envisaged using the office.
With specialist regeneration developer U+I, Plus X is looking to roll out more of its innovation hubs across the UK, with a second space launching next year. For the brand, the pandemic may have actually been more of a plus to its USP as opposed to a business minus. 
 "The pandemic brought the importance of collaboration and innovation sharply into focus," says Olga Hopton, Plus X's expansion director. "We need shared spaces where different businesses and sectors can come together to benefit one another.  
"Global tech corporations have undergone large-scale changes to their working policies, leaving an excessive amount of prime office space which is being underutilised. We want to partner with tech corporations to create innovation spaces and collaborate with SMEs, universities and local communities." 
 Plus X Powerhouse, as Plus X's second build is known, will be found at quite a distance from central London: in the zone 5 district of Hayes, to be exact. Presumably the company is banking on the nearby Crossrail station should London's ambitious Elizabeth line be fully up and running in 2023. The much delayed rail service could bring commuters from the nearby town of Reading into Hayes and back again in half an hour or less. 
Whatever happens, Plus X doesn't seem to be banking on big tenants looking for a London postcode. Talking to ERP Today, Hopton is more enthused discussing young innovators currently using Plus X's premises such as Lucy Hughes, who has won awards for a prototype alternative to single use plastic known as MarinaTex. 
 "At our innovation hubs we provide technology facilities and innovation labs that include state-of-the-art prototyping, product development and batch production facilities, which create innovative product design that tackles some of the major societal challenges we face. 
 "We also offer business support programmes to help businesses to grow and scale in a sustainable way, ultimately driving economic prosperity." 
Growth of the green-collar office 
Far beyond aggressive expansion, Plus X's expansion director stresses the importance of a circular and green approach to the offices of the future. For example, its Brighton outpost is on track to become the first building in England's South East to be accredited Platinum standard by the WELL Building Institute. 
 "Plus X Brighton is focussed on the health and wellness of its occupants," Hopton explains. "We use solely green electricity, solar panels and have a zero to landfill policy, making the building carbon neutral. The air quality is monitored for CO2, dust and humidity and adjusted to meet WELL standards." 
 SAP's Scalpel office also wears its green colours with pride. In fact, as SAP's Roper explains, the Scalpel is one of the greenest buildings in the UK, with LEED Platinum certification, the most widely used green building rating system in the world.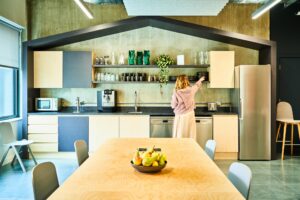 "Plus X Brighton is focussed on the health and wellness of its occupants," Olga Hopton / Plus X
Choosing the Lime Street building came not just from the benefits of being in London's business and skyscraper hotspot, but from SAP's target of becoming carbon neutral by 2025. 
"To help reach this target, SAP has implemented a number of initiatives: for instance, 75 percent of its worldwide sites are certified to ISO 14001 standards under the company's environmental management system plan," says Roper. 
  "We complemented the base building with the SAP fit-out and operations where sustainability and social enterprise procurement were key considerations." 
Where Roper talks, younger SAP workers like Ridler may be listening; take a 2021 Deloitte survey of those born between January 1995 and December 2003, otherwise known as Generation Z (Gen Z). 
 Out of over 8,000 Gen Z respondents, 26 percent said climate change was their greatest concern, coming out on top over worries such as unemployment and healthcare. 
What this all means is that it's not just enough to offer a space to workers for one or two days a week. If enterprise tech wants its employees to hang around, it needs to listen to what they want. In other words, it's not just flexibility which should be on the menu to get workers to stay, but good design and a sense of corporate responsibility. 
As UNStudio says, "A widespread war on talent has also meant that many knowledge workers can now pick and choose where they work. In turn this means that companies have to be able to offer pleasant, comfortable, sustainable and healthy workplaces to their employees; workplaces that communicate the values of the company and their approach to the wellbeing of their workforce."    
A DARING BUILD IN SWITZERLAND
When looking outside of the UK for the future of office work, it's worth taking a look at a business and co-working hub unveiled in the Schlieren area of Zürich, Switzerland this year. Its name? JED, short for 'join, explore, dare.'  
Developed by Swiss Prime Site from an abandoned printing centre, and designed by acclaimed architect Dietmar Eberle, JED is targeting the ever youthful market of tech startups to fill up its five storeys and 36,000 square metres. In that space can be found not just offices but labs, workshops, eateries, plus event and exhibition halls.  
JED therefore may remain profitable if the pandemic keeps startups talking on Zoom in the near future: arguably people will still need its prime real estate for eating out and holding conferences. 
 But, as ERP Today learns, the space is already safe thanks to its main tenant, leading Swiss IT service management brand Zühlke. 
 "The JED project was started long before the pandemic. Even then, we designed the areas generously at the request of the anchor tenant Zühlke," says Mladen Tomic, head of group communications for Swiss Prime Site AG. "We therefore did not have to make any adjustments to the planning due to the pandemic." 
Big Tech keeps office space alive once more then, it seems. Business sense is also a factor: like Meta and Google's London offices, JED is a pre-pandemic project that had come too far along for anyone to cut their losses. 
But as Tomic points out, there is another factor that may suggest the future of work may be less global, and more geography dependent. For the Swiss, the journey into work isn't as arduous as the war march it can be in Britain. 
"The current increase in the proportion of home offices has so far had no impact on the space rented by customers in the entire Swiss Prime Site portfolio. This is also underlined by a tenant survey conducted by us in summer 2021.  
"Furthermore, the proportion of home offices in Switzerland is likely to decline again. This has to do with Switzerland's geography and public transport connections. People in Switzerland commute on average about 30 minutes. In London or Paris, it is often two hours per day. These are completely different conditions." 
Like with Plus X and SAP's London HQ, a green-friendly dimension can also be found to the build, as revealed by Gianfranco Basso, head of acquisitions at Swiss Prime Site AG.  
"The new JED building is CO2 neutral as far as possible," he claims. "During the development of JED, several levels of sustainability were pursued: sustainability in the context of CO2 neutrality and resource conservation, as well as sustainability in the sense of JED's longevity." 
This was achieved by Swiss Prime reusing existing building materials wherever possible or extending their service life. Furthermore, JED maintains a photovoltaic system, and upholds a constant temperature range without any heating or air conditioning tech. 
"There are various planted green areas, which enhance the quality of stay, as well as drinking fountains in the public outdoor spaces, which were developed in cooperation with the city of Schlieren. 
 "Concerning the outdoor area, we stand for the fact that JED improves the microclimate," adds Basso. 
It may not be quite on par with the Swiss Alps, but it seems the worlds of the natural and the urban have found harmony in JED's daring grounds.