IFS ticks off the 5 Ps holding it back – sets a plan for $2bn in revenue and default status for asset-heavy businesses
Identity is everything in today's super-competitive enterprise tech market. Oracle built an imperious business on its database credentials and then dominated finance. Salesforce has owned the CRM space for two decades and became the world's biggest biz apps vendor as a result. Workday emerged to tackle HCM for big enterprises and is now the default choice for HR leaders.
Each of these vendors has commanded market-leader status and become synonymous with a particular enterprise function. Over recent years, the concept of identity has also taken hold across industries as well as line-of-business operations – and we see this most clearly with Oracle as it prepares to take a sovereign position in healthcare tech.
In traditional enterprise applications, the gap between the leaders and the also-rans has closed. In the past, many dominant positions in ERP and HCM were maintained due to a lack of credible competition. Today, that's not the case and to be a true leader you must fend off stiff competition to claim superiority.
However, in asset management a clear leader has failed to emerge. Pure play EAM vendors have largely failed to keep up with the expectations of modern enterprises while those which offer asset management as part of an integrated solution or suite have demonstrated a lack of commitment to the sector. Oracle and SAP have mature offerings for assets but usually prefer to keep their hands clean and focus on back-office functions. IBM's Maximo product is considered a leader but its usefulness is reliant on integrations with additional systems which need to be provided by other vendors. Until recently, Infor was able to deliver asset management alongside an ERP offering. However, its surprise decision to dispose of that business to Hexagon curtailed its ability to provide an end-to-end solution for asset-heavy businesses that also wanted to run finance, supply chain and HR inside a single suite or vendor offering.
The domain of physical operations is therefore without a tech vendor that can lay claim to be the default choice – IFS has ambitions to fill that spot and is making significant headway to achieve that status.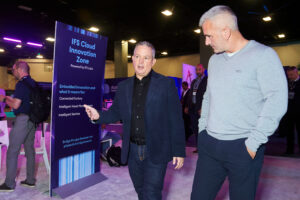 Four years ago, Darren Roos started a mission to transform IFS from an anonymous Swedish software publisher into a global tech vendor with a clear identity. For 30 years previously, it had ambled through various ownership structures and operated in a disjointed, federated environment with little or no status and an absence of strategy.
Today it boasts an industry leading field service and asset management capability which can be coupled with a modern ERP and HCM solution, all delivered through IFS Cloud. By focussing on just six key industries, the company has honed its positioning and built a $1bn business that boasts significant customers such as the U.S Navy, Lockheed Martin, Aston Martin and a host of other global businesses in aerospace and defence, utilities, construction and manufacturing.
Whilst it is unlikely that IFS will oust SAP from many of the larger customers that reside in this asset-dominated sector, there is more than enough meat for Roos and Co to make good on their pledge to grow the business to $2bn in revenue by 2025, and significantly more than that in the long term.
At the recent IFS Unleashed conference in Miami, I spent several days talking to the company's leadership to get a better understanding of just how lofty their ambitions were and how credible the claim was that IFS would emerge as the go-to partner for customers that relied on assets, infrastructure and physical operations.
How five 'Ps' have changed the game for IFS.
In 2019, IFS hosted its WoCo get-together in Boston. It was one of my first ERP vendor expos after launching ERP Today so I didn't have much to measure it by. The event was well organized, well attended and the sessions were interesting. But three years later, and having been to countless vendor shows since, it is easier for me to measure IFS' progression and compare where they were in 2019 and today.
Across virtually every metric, IFS has raised the bar and presents itself as a completely different business from that which it was just 36 months ago. Back in 2019, IFS had five key challenges: product, partners, people, personality and perception.
Product
Its core applications suite, Applications 10 (ERP, HCM and CRM), was a big step forward when it was released in 2018. It offered a modern look and feel for customers with a browser-based interface coupled with infused AI and chatbots. It adopted a microservices architecture that allowed for easier interconnectivity with other solutions and a host of service-orientated features that boosted workflows – compared to Apps 9 it was night and day. But, IFS also sold other products that sat outside of the core application suite and, as a result, forced users to switch between interfaces and engage with totally different UIs even if they were running several IFS products, such as field service or asset management alongside finance, procurement and HR.
As enterprise architectures became more complex a premium was placed on ease of integration between solutions. Enterprise leaders (and users) demanded something much closer to a single pane of glass than the historic multi-screen, multi-interface hairball that they had previously been subjected to. There is no better demonstration of this than in the rise of companies like ServiceNow which can abstract the complexity away from users and present them with a familiar experience.
To combat the disjointed nature of its solutions, IFS launched IFS Cloud in 2021 and delivered a completely new way to consume its products across the entire portfolio. Back in February 2021 I wrote:
IFS Cloud represents the culmination of three years' work by Roos and his team to deliver a harmonized set of applications that are functionally rich, highly flexible and built on an underlying technology platform that provides choice for customers.
The new proposition represents a step change for existing customers and provides a genuinely credible alternative for potential new logos that may not like the look of their upgrade options from incumbent suppliers. IFS Cloud is essentially one application – whether you are using ERP, HR, EAM or FSM – there is one platform, one data model and one experience. IFS Cloud is essentially a single product where components can be switched on or off without the need to integrate individual modules or artefacts. This new architecture abstracts the complexity of integrations away from the customer and allows them to focus on their business, their customers and delivering their own moments of service without needing to invest time, money and effort in managing a hairball application landscape.
One year on, more than 50 global customers are live on IFS Cloud with another 150 in-flight with their projects. That may seem like small change compared to some, but ask SAP how many live customers they had on S/4HANA 12 months after its release and you will find a new perspective.
Partners
Three years ago I boldly told Roos that he would not be able to accomplish his objectives if the partner network that sold, implemented and supported IFS customers was not significantly strengthened. Whilst I doubt my input had anything to do with his strategy, it is clear I was not alone in that thinking as major steps have been taken to bolster the ecosystem. The number of partners has increased from 40-odd to several hundred with many of the larger partners taking a much stronger position in the ecosystem and investing time, money and effort into building capabilities around the IFS portfolio.
Validating this interest from the larger consultancies is the recent appointment of John Walsh, Accenture's chief strategic accounts and global sales officer, to the IFS board. Walsh commented on his appointment saying: "IFS is on an exciting trajectory and I am pleased to join and bring my own sales leadership and expertise to help execute its longer term growth strategies."
However, the most significant evolution in the IFS partner network has been the launch of Arcwide – a joint venture between BearingPoint and IFS – that has established a dedicated 'IFS shop' with more than 250 consultants already. You can read more on this development in a separate story here – suffice to say for now that the joint venture has very aggressive and ambitious plans to grow Arcwide with the aim of having 1,000 IFS consultants on board by 2025.
People
In the same timeframe, Roos has dramatically changed the make-up of his executive leadership team and introduced a collection of industry heavyweights in both operational and boardroom roles.
Craig Conway, one of the godfathers of ERP, has sat on the IFS board since 2017 – but his credentials have recently been complemented by the aforementioned Walsh from Accenture and a number of other key appointments including Jacqueline de Rojas CBE, president of techUK, amongst others.
Operationally, Michael Ouissi has moved to the COO role and made way for Mark Moffat to join as chief customer officer. Moffat is a former PwC senior exec who adds a new dimension to IFS' customer outlook while Ouissi's new role provides one of IFS' strongest leaders with a more rounded and effective view of the entire IFS value proposition. Marne Martin has been with IFS since its acquisition of Workwave in 2018 but now commands a much broader remit across industries and service management. Finally, long time IFS stalwart Cindy Jaudon – who lead the US business as president for almost two decades – has assumed a broader role in a global customer capacity allowing for the introduction of Dave Spencer, a former SAP and Synity exec, as the new head of the Americas.
The new and slightly reshuffled team is backed up by long-time product leader, Christian Pederson, and former Infor SVP and revenue exec, Simon Niesler.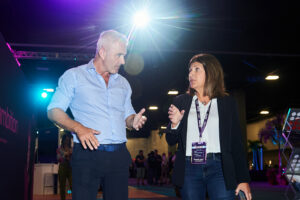 Akin to a football manager that needed to make a few changes to break into the next tier, Roos has added credibility and proven experience to his senior team and they are now fit to take on the next phase of the challenge ahead.
Personality
Can a software vendor have a personality? And if so, should it? Well, Roos and CMO Oliver Pilgerstorfer will tell you that it should – but not one that is built on the same principles as many others. As I alluded to at the start of this article, when Roos came to power, IFS was a pretty anonymous business without charm or identity. A combination of radical thinking and marketing know-how created the concept of 'The Moment of Service' and IFS has operated under that strapline ever since. It may appear to be a throwaway catchphrase but as you get to know IFS you begin to understand how intrinsic this concept is.
In a previous interview, Roos told me: "Everybody strives for the highest possible customer satisfaction, high customer retention and higher advocacy. To achieve that, customers need to be served well at all stages. It's about providing them with the right quality products at the right time and this means produced on time by your manufacturing plant, delivered on time, sending an accurate invoice, having efficient call centers and providing great field service. When all that comes together, we call that the 'Moment of Service' and our goal is to enable you to deliver your moment of service."
Having spent considerable time challenging the strength of this statement during the Miami event, it was apparent that what started out as a soundbite has become a way of thinking for an entire organization. The notion of service and the responsibility to meet customers at the point where it is needed has permeated into every facet of the company and galvanized a culture that really is in the business of serving customers. Very few vendors get to live by the values that they espouse, in IFS we have found one that laid out an agenda, made a commitment and is actually able to live up to that.
Perception
Although the adage that 'perception is everything' does little to support my previous points, there is no doubt that brand and slick marketing are vital ingredients in the ultra-competitive ERP market. To that end, IFS is one of the best at positioning its brands in such a way that it feels aspirational, contemporary and relevant.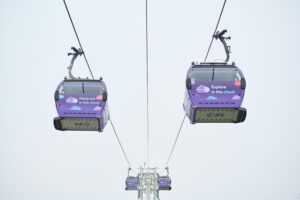 The company launched its makeover at the start of 2021, but it is only now that we are seeing the full activation of a plan that has catapulted an obscure and forgettable logo into a brand with punch.
A global conference in sun-soaked Miami to affiliations with sporting events and iconic landmarks – IFS is a brand that is rejuvenated and feels germane, relevant and ambitious. You can read more on IFS' latest marketing exploits with TfL and the IFS Cloud Cable Car here.
Conclusion
When I spoke to Roos in Miami, I asked him if he had already won and if so, what was the motivation for carrying on? Under his leadership the value of the business has increased tenfold, it has a clear identity, has broken through the $1bn sales barrier and recently won more net new customers in a single 12 month period than in the previous 25 years combined. IFS was crowned ERP Vendor of the Year at the ERP Today Awards and Roos himself was voted the top SaaS CEO for 2022 (The Software Report) – although I think Benioff et al may have something to say about that claim! Surely now would be a great time to bow out and celebrate a job well done?
Roos was as clear with me in Miami as he was back in 2019 when we first met. "There is still work to do, I am still up for the job and we will break through to $2bn in revenue by 2025", he told me.
A bold claim indeed, but then he made a few of those three years ago and look what happened.