ERP Today attended Oracle5:LIVE last month, a one-day conference in London that promised to cut through business software "techno-babble" and explore what the latest developments in the industry really mean for Oracle users.
Five independent Oracle partners – Arcivate, Claremont, Fudge Learn, Innovate Tax and SplashBI – came together to put on the event at the impressive East Wintergarden in Canary Wharf, with a host of customers including Weatherbys Bank, Warner Music Group, Tesco, Schroders and Eurostar, sharing their experiences of adopting new technologies and processes within Oracle stack – strictly from a finance, accounting and HR perspective.
After being welcomed by the organizers, fueled with coffee and given a run-down of the day's agenda, the first of four keynotes was delivered by Stewart Allan, chief information officer at Weatherbys Bank, who provided a detailed insight into his own experiences of digital transformation and the wide-reaching impact it has had across all business processes. In a frank and open appraisal, we heard what worked and, more importantly, what didn't go so well with Weatherbys transformation and how these lessons could be applied to other customers.
The next session was presented by Terry Walton from Oracle's Applications Unlimited team on the company's continued investment in E-Business Suite with the team increasing their focus on functional advances, mobility, UI modernization and operational efficiency.
Following a quick break and a biscuit (or three), the event then split off into multiple sessions across the venue, allowing attendees to choose where to focus our attention. We opted to join a session delivered by Rachael Griffiths, senior solutions engineer at Oracle University, and Tony Cook, founder and CEO of Fudge Learn, who discussed the secrets of ERP user adoption and how to empower teams to be more productive in the workplace. They also provided a useful demo of Oracle's Guilded Learning – a digital adoption solution that aims to help speed implementation and ensure users have the confidence and competence to use a new ERP system.
The lunch break offered further opportunity to network, the novelty of which still hasn't worn off post-lockdown, and to hear other people's take on the topics that had been covered during the morning. When we finally dragged ourselves away from the buffet, we enjoyed a talk from Alison Gibson, senior business analyst at Warner Music Group, and Rishabh Miglani, solutions manager at SplashBI, on how Oracle EBS reporting for accounts receivable data and financial report automation has optimized internal processes and provided a smarter way of working.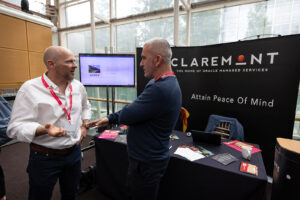 To round off what had proved to be a solid day's learning, we joined the panel session Q&A – touted by event organizers as 'Mastermind' meets 'Question Time' – where attendees were invited to quiz the Oracle 5 partner panelists on all that had been discussed throughout the conference.
Considering this was the first time the five partners had put an event together it was very well organized and attended. It was refreshing to hear an honest and open analysis from the Oracle Apps Unlimited team and the customer stories followed a similarly pragmatic outlook.
At closing Graham Spicer from SplashBI whetted the audience's appetite for the next event which will take place towards the end of the year. ERP Today will be in attendance and we would encourage all Oracle EBS users to look out for the date – a great day all round full of networking, customers stories and learnings.