The backdrop – commercial elasticity and the demand for workloads.The cloud has been one of, if not the, most transformative IT innovations in the short history of the IT discipline. The ability to convert CAPEX into OPEX has an irresistible lure to enterprises in a pandemic world more than ever. And the pandemic has enforced the move to the cloud even more, as enterprises struggle to align their IT costs with their businesses' ups and downs. The strategy is clear: tie an enterprise's operational performance with its IT costs. When the business is up, costs are up. When the business is down, costs are down. To achieve that, enterprises need to exploit the commercial elasticity which only the cloud can offer. 
In the meantime, cloud vendors have not been resting on their laurels. They realise that to move the last 50-66 percent of on-premise workloads to the cloud, they need to make migration easier or create unique automation advantages. All vendors have been doing this now for a decade; two years ago it was time to play the next strategy card – the verticalization of their cloud offerings. That is the specific offering of industry specific capability and processes, with the hope that it will entice enterprises to move to the cloud that offers these vertical offerings. 
A word of caution: horizontal technology progress vs. vertical offerings
While the verticalization of cloud offerings is in full swing, CxOs need to consider what they have already known for a long time: technology progress that benefits all industries always beats out vertical offerings and the investment into them. The rationale is – who will want a vertical solution that is perfect in terms of industry fit but based on the last generation of technology. So vertical investments by vendors across all software categories come to a screeching halt when horizontal technology progress makes them obsolete. This was the case for the ill-fated vertical offerings by e.g. Oracle and SAP in the 1990s, which were halted once the internet architecture became the next platform every enterprise wanted to be on.  
So CxOs need to consider – is there another horizontal technology in the making that will stop all the vertical offerings that we are seeing launched by the cloud vendors? The good news is that it's unlikely. The biggest reassurance here is the cloud by itself. Instead of forcing enterprises to switch products or upgrade to bridge towards a new technology, the cloud will add that technology and provide migration to that technology, often without customers even noticing. This is how cloud vendors upgrade the underlying server platforms and infrastructure. Or take the current AI offerings of the major cloud vendors as an example and reassurance at the same time. 10 years ago, there were no AI offerings in the cloud. Today all cloud vendors offer their AI architectures and solutions without any disruption amongst them. As it looks in 2021 – the future of the vertical cloud looks bright. 
The vertical strategies of the major cloud vendors
Let's look at the vertical cloud strategies of the three major cloud vendors (in alphabetical order).
> AWS: The general AWS strategy is characterised by the creation of horizontal offerings, for instance its BI tool Amazon QuickSight and Amazon Connect for call centres etc with the vendor typically releasing one or two new horizontal offerings at its yearly re:Invent conference late November in Las Vegas. More recently AWS looked at simplifying its offering by providing more bundled services and reducing complexity for its customers. When it comes to verticals, not long-ago AWS would point to its many industries specific security certifications (e.g. FedRamp for the US public sector, HIPAA/HITECH for the healthcare sector etc.), but clearly that was not enough. 
Today AWS offers 16 vertical solutions, from automotive all the way to travel and hospitality. Typically, the vertical offering is a combination of mostly horizontal solutions (tailored to various degrees to the specific industries) and fewer vertical offerings (e.g. Seismic Workflow offered in the energy vertical, in a combination with partner offerings). AWS also benefits from the large number of ISVs that have chosen its platform (e.g. Adobe and Salesforce are solutions mentioned as part of the advertising/marketing vertical). 
> Google:  Google is the cloud vendor that started it all when it comes to cloud verticalization. Google Cloud executives know that it needs to be innovative to catch up with its two key rivals from its distant third place in the cloud market share rankings. With Thomas Kurian coming over from Oracle, Google Cloud has an executive at the helm that knows very well about the importance of vertical offerings. 
Google Cloud offers 17 vertical offerings ranging from automotive all the way to telecommunications. Google breaks down its government offerings further separating state/local government and federal government as well as financial services and capital markets offerings. Google is the only vendor of the three breaking out its Covid-19 solutions as a 'vertical' offering. Like its competitors, each vertical offerings is a mix of predominantly horizontal capabilities (sometimes with an industry localisation, e.g. retail analytics powered by Looker) and few deep vertical offerings (e.g. the Lending DocAI for financial services). 
> Microsoft Azure: Contrary to AWS and Google, Microsoft has a wider product portfolio and more importantly has a history of vertical offerings reaching back to the last century. The consequence is that Microsoft offers industry clouds (a total of 17 – from automotive to telecommunications) which are offering all that Microsoft can offer into these verticals, and then more narrowly Azure Industry Solutions for its specific cloud offerings (a total of seven – from energy to retail). 
The Azure Industry Solutions greatly rely on the horizontal capabilities of Azure. For instance for manufacturing, the Microsoft offerings for industrial IoT and mixed reality are the closest to being manufacturing specific. On the flipside, given Microsoft's longer history with helping enterprises, it has the richest customer reference use case repository compared to its two other competitors. Interestingly, Microsoft does not point to its in-house ERP offering, Microsoft Dynamics as part of the Azure vertical cloud offerings. 
Strategy blocks for a vertical cloud strategy
When charting their vertical cloud strategy for their enterprise, CxOs should consider the following aspects:
It is (very) early days.

In the tight cloud market race, any message that resonates with enterprises will be quickly re-used by all three players. Messages are easy, software development is much harder, so tangible vertical capabilities will take time to build. 

Don't get blinded by the marketing

. All three vendors have superb marketing and can portray 'massive' vertical offerings, even in the early days. Don't get fooled but lock down the specific vertical offerings and demand to see their roadmaps and references. 

Thoroughly test drive the new capabilities.

If vertical capabilities are available, understand the reference situation well and test drive them thoroughly for your enterprise. Insist on a roadmap with dates as the offering will have to mature in the coming years. 

Your ERP system matters much more.

It is almost ironic that all three vendors feature SAP as a vertical solution for almost all their vertical offerings. This points to the reality that the 40 years of ERP history have created more vertical capabilities than the cloud vendors were able to in three years.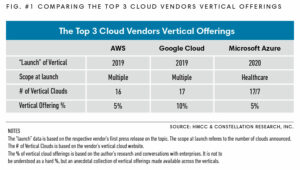 Takeaways
Obviously, it is very early days for vertical cloud offerings. Like with any new offering, CxOs need to approach them with a healthy dose of caution. While the fear that the vertical offerings will be short-lived due to underlying horizontal technology changes can be classified as minimal in 2021, it still is not clear if the drive to a vertical cloud is a mere messaging battle or will be a real functionality battle going forward. There is a lot of appeal in a vertical cloud offering in terms of adoption speed and fit for an enterprise – but there is also a lot of work that needs to be put in by the cloud providers. If they will be really up to the job, remains to be seen.
In the meantime, the vertical support of your ERP product dwarfs the functional range that is provided by the cloud vendors today. So, the focus on what your ERP system can do from a vertical automation perspective is much more important for your enterprise than the cloud you choose. As mentioned, all cloud providers include SAP in their vertical offerings – which conveniently for enterprises supports all three cloud vendors. 
The fact that it is not easy for all ERP vendors, including SAP, to build vertical capabilities is a topic for another article in ERP Today.