Paul Taplin, digital, automation and change director, Voyager Solutions, explores the increased role of AI and robotic process automation in back office ERP systems.
In a world of complexity, strategic buzzwords and management consultancy speak, I sometimes make myself unpopular by challenging changes with the ask, "so what needs to be different when we come into work everyday?" More recently, though, I have been asking a second question: "Where are the robots hidden then?"
You can easily find articles and viewpoints on back office AI, but when I ask people where the robots live and what they do, many people can't answer it. I studied AI technology at university in 1988, which believe me is of no help whatsoever now. Also, having lived through 30 years of ERP and years of intelligent automation, I think we need to "smoke out" the different types of robots with some real examples. As such, I thought that identifying 15 real life examples of robotic activity from back office ERP might help.
For what it's worth, I think in relation to ERP we are dealing with five different species of robot, with three different habitats.
Transactional robotic process automation (RPA) mimicking humans (outside ERP). First generation RPA which works with ERP systems to mimic exactly what human users do, but live outside of the ERP application.
Transactional RPA embedded in an ERP (inside ERP). RPA which has been embedded within an ERP system, which lives inside the ERP application.
Early AI outside ERP. AI which has interacted with an ERP indirectly, often being called up from an RPA system or a learning technology. These live outside the ERP system.
AI application software (replacing/complementing ERP). These perform functions similar to ERP systems, sometimes both performing equivalent ERP functions and being integrated with them.
AI embedded into an ERP system (inside ERP). Living in and operating as part of the ERP solution.
Let's break each of these down.
The invisible hands: transactional RPA mimicking humans (outside ERP)
RPA is software which can perform the same role as a human user, across a number of systems. The robot is "trained" by developing a flow of activity and is given the same access as a human user. Watching RPA is like watching a software demo without anyone working the keyboard.
The first wave of robots started to appear in the guise of RPA products like Automation Anywhere. Blue Prism, UiPath and more could be found filling gaps in between systems where human users were transferring data manually. For example, where we have teams who take Excel data to transfer into an ERP system, it was quite easy to use robots to fill those gaps by training them to follow the process and interact with ERP.
Example one – transactional shared services. In finance and HR, tasks that were part of business shared service centers (high volume, transactional, rules based) were great for replacing with RPA. In many back office shared service centers we find teams managing Excel data in and out of ERP and other systems. We have worked with examples including downloading mass Excel reports from Workday or entering journal information that is typically keyed in from a Word form or an Excel spreadsheet.
Example two – vendor set up with multiple sources of data. In procurement, requests to set up new vendors often require a lot of inputs from a lot of sources and systems (external VAT websites for VAT number, information from forms submitted). We worked with one example that needed to interact with an ERP system to input the information into the ERP and generate a vendor ID (which is emailed) from it. RPA was ideal for this.
At some point, RPA vendors realized that many customers were trying to build robot automations on the same functionality within the ERP systems, so started to issue pre-configured automations such as Blue Prism SAP accelerators or UiPath integrations for Oracle, SAP or Workday. This has made developing pre-configured automations a quicker operation than before.
As well as mimicking the operational ERP user tasks, RPA can also be used during the projects that enhance and build ERP systems. Test automation is an obvious area where the rules-based, transactional nature of RPA lends itself to the test environment. But even migrating from on premise to SAP S/4HANA can be made easier. As such UiPath and SAP have announced an alliance which enables customers to execute business transformations, migrate critical business systems to the cloud, and augment existing business systems with the UiPath Automation Platform.
Around 2015, the RPA vendors predicted that RPA would take over back office, with the organization being resourced by a combined team of humans and virtual workers. The RPA market did grow substantially, and most large organizations have RPA robots somewhere, but they do not operate across every geography and every function in a typical organization right now, with a five-ten percent figure of the total workforce being automated in back office now quite ambitious for most organizations.
Robots move into the ERP – RPA embedded in an ERP (inside ERP)
In the early days, we sat in on a lot of RPA meetings where the question was asked, "Does the robot need a human license the same as a person?" and "can we buy less licenses because the robots are faster?" Accordingly we knew that the ERP vendors would not sit still for very long.
A five-ten percent figure of the total workforce being automated in back office now quite ambitious for most organizations.
Apart from the obvious need to develop licensing models compatible with robots and not human users, the ERP vendors have for many years been developing RPA capabilities themselves. In the last five years, ERP vendors have entered the RPA market directly, with SAP becoming more dominant in the Gartner Magic Quadrant. A common SAP example involves developing a workflow with a bot to read details from Excel and input into SAP S/4HANA Cloud.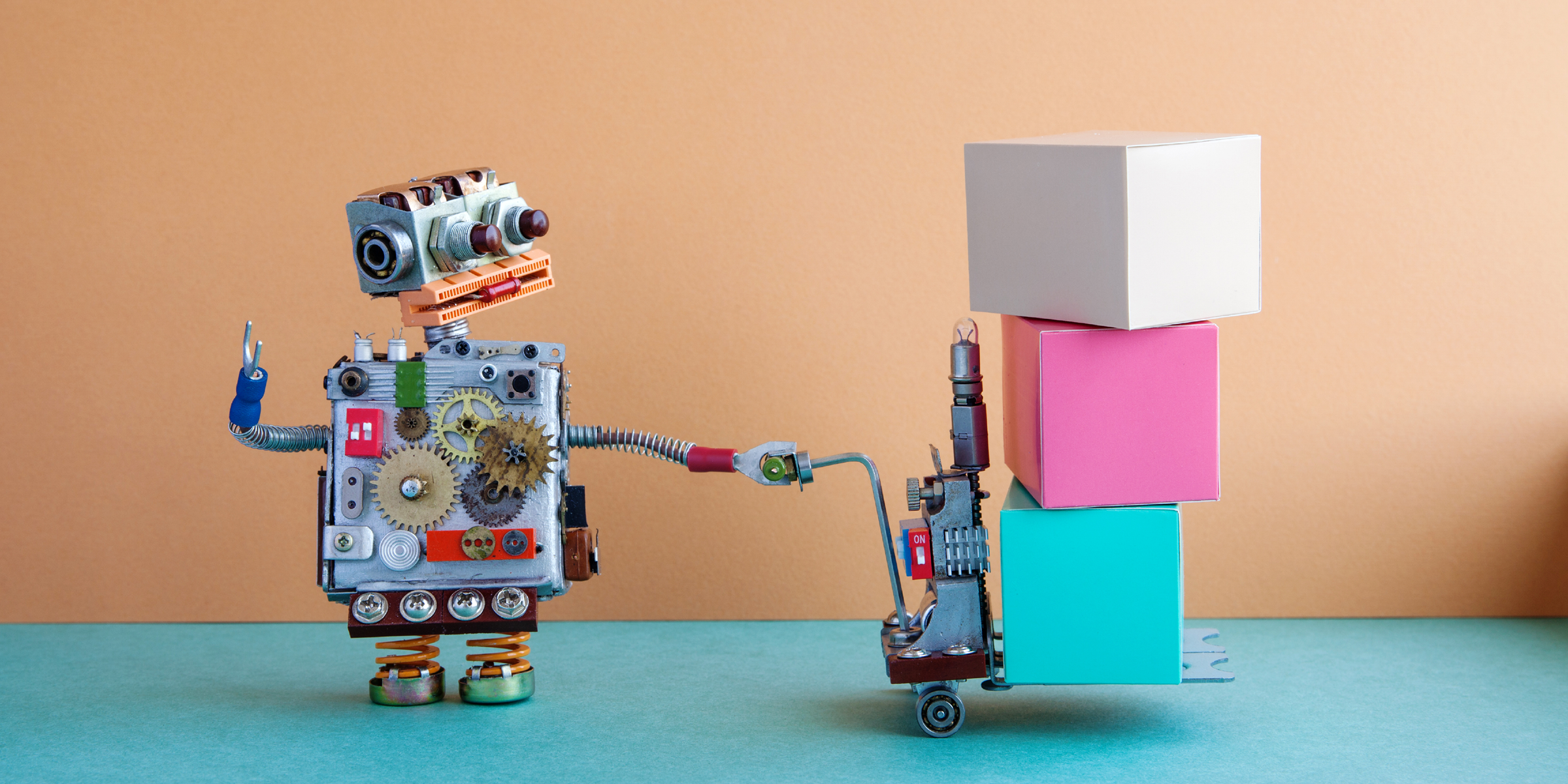 Microsoft also entered the RPA marketplace with Power Automate and Power Apps, themselves automation products. Power Apps apps are typically used in close coordination with other Microsoft products, such as SharePoint and Dynamics 365.
Example three – Microsoft Procurement. Using the Microsoft Suite, you can make the procurement process more efficient by alerting procurement managers when quotation requests are sent, allowing for prompt follow-up and faster engagement.
The thinking robots arrive – early AI (outside ERP)
A common question we were asked when we implemented RPA was, "What if it decides to do something naughty?" I used to reassure people that RPA would not be capable of waking up one day and deciding to set up a vendor; set up a bank account; put in an invoice and run off with the cleared funds – unless you told it to!
The great thing, and also the bad thing, with RPA is that it does exactly what it is told to do, over and over again, but never anything outside of the rules which are defined in "if, then" type logic. Great for high volume, transactional, rules-based stuff. Also great to bring work back from offshore – but please don't ask them to make decisions. AI had been around since the 1950s, with a concept of having software that contained more cognitive capabilities to recommend.
But since the 50s, hardware capability has been a limiting factor, even in 1997 when IBM Deep Blue was the first AI to win a chess match against a reigning world champion under regular time controls.
Around the mid 2010s, applications could communicate with IBM Watson, a computer system capable of using natural language processing to take questions and provide answers. Products like Watson were "trained" by subjecting them to tens of thousands of examples to look for patterns, such as contracts, or a tire company showing an AI tens of thousands of new tires, pointing out defect ones, so that it could start to deduce the physical characteristics that made a tire a reject.
Early versions of RPA defined an "ecosystem" of relationships with numerous AI platforms so that the "non-thinking" RPA robot could "phone a friend" in the form of other AI products to bring AI in as part of a process. The concept was simple – RPA talks to any system, and the AI "ecosystem" products were just a system that had some sort of input and output link. We worked with optical character recognition scanning software like ABBY; chatbots like CoreAI and Microsoft and Google AI products.
RPA talks to any system, and the AI "ecosystem" products were a system with input and output links.
Example four – the learning assistant validates addresses. Assima, a learning technology provider who had provided context sensitive online support and learning for ERP products for decades, developed an assistant who knew where you were in an SAP process and provided direct support based on that. An SAP user working with physical addresses was supported by an assistant that was already looking them up on the internet in the background to see if they existed.
Example five – the learning assistant recommends seasonal stock volumes. In a more advanced use, an SAP user ordering a seasonal product like bottled water was supported by an assistant that would query the weather forecast, and use IBM Watson to figure out how much stock to order based on forecast probabilities.
Example six – using the chatbot as an HR advisor. An employee could interact with a chatbot. Using the employee login details, an RPA could look up items on the HR system and make changes – such as a change of address using the chatbot as the means of interaction with the client. Products such as CoreAI facilitated these types of use cases.
Example seven – the intelligent document scanner in accounts payable. Document scanning had for many years become more sophisticated, and increasingly we saw products evolve to use AI to interpret where fields were likely to be on documents, and later to even identify different document types in multiple languages. In accounts payable, this allowed for a reduced number of exceptions when scanning invoices.
Taking on intelligent ERP tasks: AI application software (replacing/ complementing ERP)
Working in business change, we are always interested in finding those applications that will really shape the future organization structures and roles in an organization.
We are starting to see companies who are driving out exciting standalone uses of AI that can be found in specific areas of back office. One example is X0PA, an intelligent HR B2B platform that streamlines hiring and selections.
You can use the product in its entirety to replace ERP for the entire end-to-end hiring process, but more commonly to work at specific points of an ERP-enabled journey such as Workday or SAP SuccessFactors. The following scenario is a great nod towards the future for back office AI.
Example eight – automating the entire recruitment hiring and selection process. The hiring manager puts in a description of a role that needs to be recruited, which is tidied up into corporate standard by the AI. The profile is sent out to the job boards by the RPA, and the AI evaluates the CVs that come back in, making a shortlist.
The RPA can then organize any interviews, and software like X0PA Room sets up hybrid assessments including video, multiple choice, essay and even coding assessments. Candidates can be interviewed by an avatar, and natural language processing and sentiment (emotion) analysis provide the data that will determine the final candidate decision, made of course by the AI.
The RPA can also handle the admin of job offers and onboarding etc. The person who arrives on their first day will have been managed through a process which has provided real-time information throughout the whole recruiting process (avoiding the "they never got back to me" issue), and eliminated any bias during the recruitment process which humans may have introduced.
AI moves inside the ERP – AI embedded into an ERP system (inside ERP)
I was not surprised when I started to see the ERP vendors start to take on the AI market directly.
Most of the ERP vendors have already embedded AI capabilities into the product set or are about to. In May 2023, IBM and SAP announced a partnership to further embed IBM Watson in the platform, including a powered-up digital assistant. In June 2023, Oracle announced additional new generative AI services for businesses, in collaboration with Cohere.
At Sapphire 2023, there were a lot of announcements about how AI is already embedded in SAP S/4HANA.
There are some great examples of embedded AI already across the range of ERP vendor platforms.
Example nine – ServiceNow and IT support. Now Intelligence includes a set of machine learning frameworks, where search and automation functions plus natural language processing work together to seamlessly enhance employees' abilities and customer experiences. In IT incident management, major incident detection can flag similarity across issues using ML to identify and triage critical incidents.
Example ten – Oracle finance and procurement. Oracle AI Apps are embedded in Oracle Financials to improve performance, optimize working capital and increase automation across accounts payable and receivable in Oracle Cloud Financials with AI-powered features built specifically for finance tasks. In procurement, supplier categorization leverages a consolidated view of supplier information to support dynamic discounting strategies. AI-powered smart recommendations can be made based on supplier, firmographic and spend data.
Example eleven – SAP finance invoice matching. SAP AI Business Services solutions make agile decisions, unlock valuable insights and automate tasks with AI built into end-to-end business processes. You can pass incoming payment and open invoice information from SAP S/4HANA to a matching engine, based on SAP Business Technology Platform, that automatically clears or suggests for review proposed matches by accounts receivable.
Example twelve – Oracle HR. Recent announcements in genAI capabilities will see users with the capability to see buttons in the Oracle HR app which will auto-populate text, for example when building out a job description.
Example thirteen – SAP HR for travel and expenses. Employees can submit expenses efficiently with intelligent receipt scanning and form-filling processes, while AI-enhanced audits can prioritize issues and reduce non-compliant spend.
Example fourteen – IFS in scheduling and planning. IFS has many ML embedded features, including embedded ML to predict demand; score sales opportunities alongside optimization algorithms, driven by AI, to solve complex dynamic scheduling and planning problems. IFS Cloud also includes the ability to take advantage of ML on historical data when scheduling, such as in predicting journey travel times.
Example fifteen – Coupa AI Spend Classification. This improves manual classification efficiency with ML and AI to standardize, classify and enrich spend across spend and ERP systems. This can use anonymized data from across the wider Coupa community if required.
As a company, we started supporting ERP projects in 1998 and came across RPA in 2014. Thereafter we progressed into the more advanced AI applications off the back of that. It's ironic that all of these concepts have now merged into one.
A human workforce which will be organized by skill types and not jobs, supported by AI agents.
Remember when I told you that they had predicted that RPA would take over most organizations with robots practically running the back office functions? Similar predictions are currently being made about AI, with some saying that we will be ripping up all the rules of organization design, with a vision of a human workforce that will be organized by skill types and not jobs, supported by AI agents also organized by the types of tasks required.
I look at many of our FTSE and mid-market clients who are today using the original RPA robots very effectively that they installed seven years ago, but still on those transactional, high volume tasks, and are maybe a few versions behind on the ERP front. They will eventually catch up over the coming years, but I still see an evolution driven by the ERP, RPA and AI possibilities, rather than the fast revolution that many are predicting.
After all, the landscape for back office transforms in half-decades, never overnight.