For those not in the know, French IT giant Atos is now two brands: Atos and Eviden. The latter, to be more exact, is referred to as Eviden, an Atos Company (with Eviden being the Latin for obvious). This new spin-off is no longer known as SpinCo, a placeholder name for the digital business during Atos' splitting into two publicly listed businesses. It is also not known as Evidian. This was likely the original final name for the new company, with information online stating that all changed when a similarity to Nvidia became too hard not to notice.
On the day of interviewing Guillem Pelissier, head of the Global AWS Business Group at Eviden, I learn Evidian was another "code name". Either way, ERP Today was glad this naming saga has been concluded by the company – and hopefully everything is now more, ahem, obvious to readers.
The conversation with Pelissier, pictured below, happened at AWS Summit London 2023. As a result, AWS featured prominently in our interview, but ERP Today also zoned in on the state of play for the Atos Group today.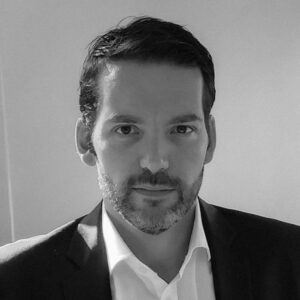 Atos: living the EY dream
Atos announced its split into two last October. The company had been struggling since a rocky 2021, in which it lost not just two bosses but half of its market value because of accounting errors.
In response, Atos spun off and combined its cybersecurity arm BDS with its digital services operations under that name of Eviden. The remaining part of Atos includes its IT infrastructure management services as part of its Tech Foundations business line.
EY might be looking on all of this rather enviously. This April the consulting giant halted its controversial plan to divide its auditing and consulting divisions. EY's leaders promised this to be a bump in the road, but nothing has been heard since, nor is it likely to be for a good while.
Like with EY, Atos says their split is all about doing what's best for their customers in a changing business landscape.
"It was important to have two businesses following different types of business model," Pelissier explains. "IT operations is a mature market which needs to be focused on user experience and productivity. That's what keeps the lights on for customers."
"Digital transformation, which is part of Eviden, requires a high level of investment and innovation," he continues.
Not that the spinning out is completed just yet – as of our conversation last month, Eviden is still absorbing all things digital modernization, cloud native capabilities, cyber security and AI/ML from Atos. The new brand is also keeping its "very strong footprint" with AWS, as carried over from the original pre-Eviden days, with Atos keeping its own relationship with AWS.
"(It's) what we call the 'new' Atos, the IT outsourcing business, with a new service called Cloud Catalyst looking at how to productively transform our IT outsourcing contracts and help customers accelerate their migration to AWS. In this (project) Eviden and Atos is working hand in hand…to make it easy for customers to take their hyperscaler of choice."
The big question is pinning down Eviden's USP in the enterprise market. That's not so obvious, perhaps. For Pelissier, Eviden brings to AWS its expertise in compliance and managed security services, alongside sustainability.
"It's a strong commitment from Atos, Eviden and AWS to work together on sustainability and help customers going through their decarbonization journey."
Obvious quantum evidence?
Pelissier doesn't mention what I last year saw to be a developing niche from Atos regarding its work in next-gen tech such as supercomputers, computer vision and quantum. That's probably because those remits fall outside of the AWS remit. Either way, after talking to the exec, Eviden announced two partnerships in high performance and quantum computing. It was also given a $100m contract to deliver two supercomputers to India which will, perhaps ironically, use technology from Nvidia. All of these wins happened in short succession, with the start of the year seeing the UK government buy another quantum simulator from Atos.
While everyone is talking about AI and ChatGPT, perhaps Eviden is shrewdly placing its bets on the Next Big Thing in tech, the power that will likely evolve AI to its logical next stage: quantum computing. Not convinced? Well, a former Atos CEO is now exec chair for quantum startup Alice & Bob. While EY may be dreaming of devolution, Eviden seems to no be longer be dreaming up name changing but instead envisioning game-changing technological evolution.