Oracle Cloud World rolled into London recently marking its first large-scale in-person event since 2020. The renamed annual convention for partners and customers took place in the familiar surroundings of London ExCel – but apart from the location, everything was different this year.
When OpenWorld first came to London in 2019, it was a bullish affair modelled on the long-standing traditions of previous events hosted in San Francisco and Las Vegas – it was noisy, very salesy and epitomised Big Red's personality. Back then, Oracle was still in a transition phase both in terms of its product portfolio and its corporate narrative: Autonomous Database had just been released, its OCI ambitions had not yet been realised and it was still grappling with the challenges of becoming a cloud-first, customer-centric business.
Just four years later the transformation is profound.
During a full day of keynotes, plenary sessions and breakouts, Oracle put on a masterclass which underscored its position as the hottest cloud vendor for digitally-ambitious enterprises. Whilst the location, partners and attendees were largely the same as in previous years, the event had a completely different feel to it, with customers front and centre and a narrative that marked the maturation of a transformation few thought Oracle could execute.
Customers take centre stage
The day kicked off with a keynote address from CEO, Safra Catz. The presentation was understated and authentic and focused squarely on customers. Unlike most vendor conferences that can be reminiscent of an earnings call, Catz didn't bombast the audience with boasts and numbers. Instead, she spoke empathetically about the challenges of modern commerce and positioned Oracle as a partner that could help navigate uncertainty.
During Catz's session, London Stock Exchange Group (LSEG), Network Rail and Nespresso took the spotlight to recount their transformation journeys. Unless I missed it, not one of them talked about Oracle tech. Instead, they extolled the benefits of a long-standing partnership that was rooted in a shared desire to bring people, data and technology together. Each customer spoke to the challenges of creating digital businesses with reliable supply chains, coherent data and the ability to serve customers where, when and how they wanted.
All three customers were very different and they used different technology to achieve their goals, but a common thread ran through the case studies and unsurprisingly it wasn't how much Oracle product they had bought. LSEG spoke to the challenges of integrating acquisitions and harmonising data; Nespresso highlighted the need for agility in a rapidly changing consumer market; and Network Rail focused on using AI to improve maintenance scheduling and timetables. Three very different businesses with completely separate challenges but each one boiled down to a simple question – how can we better serve our customers? They each found the answer in Oracle.
ERP, SCM and HCM get big updates
Second on stage were Cormac Watters and Steve Miranda. The session started with Watters delivering a relaxed and charming introduction before giving way to Miranda for a presentation on new Fusion updates. Product announcements can be dry, but Miranda demonstrated a compelling picture of new capabilities with a series of real-world examples that brought each feature to life.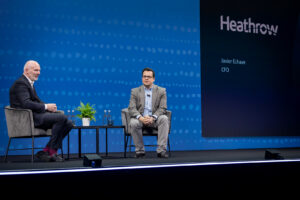 The biggest announcements focused on enhanced supply chain processes that are infused with AI and the launch of Oracle Grow, another AI-powered solution, that sits inside the HCM offering. A who's who of customers across healthcare, financial services, communications, professional services, consumer goods, hospitality and manufacturing were called out to demonstrate the depth of Oracle's customer base in each of these capabilities.
Watters then returned to the stage to interview long-time Oracle customer, Javier Echave, CFO at Heathrow Airport. The case study followed a similar theme to the previous customer stories with Echave talking about the challenges faced during the pandemic and how Heathrow had navigated the most uncertain of times by leaning on a partnership rather than talking too deeply about technology. That partnership is built on a foundation of Oracle Fusion ERP and HCM but the narrative wasn't bloated with product and technical bravado – it spoke to the heart of a relationship between customer and technology vendor that demonstrated, yet again, how putting the customer's customer in the cross hairs of every endeavour was central to shared success.
Once the main stage had concluded there were a series of sessions on the exhibition floor and in various breakout rooms – too many to mention in full, but my personal highlights were:
IBM's session which highlighted work with AccorInvest Group (AIG) and demonstrated how AIG had implemented Oracle Cloud to harmonise finance, HR and ESG into a single platform. Namos Solutions' session that lifted the lid on the challenges of moving to the cloud through a panel session with Marie Curie, the Civil Nuclear Constabulary and University of Greenwich. Inoapps' session that focused on decision-making and how to innovate faster which was a follow-on from a session delivered a year before at CloudWorld Vegas. And finally, Deloitte's take on accelerating continuous innovation through digital transformation which provided insight into how Irdeto had maximised value from its investment in Oracle Cloud ERP.
Conclusion
My day concluded with a one-to-one conversation with Siobhan Wilson, Oracle's UK country leader, and during our 30-minute tour of the exhibition hall we talked about a variety of topics including customers, competitors, young talents and opportunities. But one thing stood out above all else – partnerships. Catz, Watters, Miranda and Wilson all spoke off the same sheet – but it didn't feel like a PR script, it felt authentic and believable.
Wilson told me that Oracle was in the business of building partnerships. Not just with its ecosystem of global consultancies. But also with other tech vendors, hyperscalers, industry leaders and anyone else who could bring something to the party and help deliver a better outcome for customers.
It struck me that this simple shift in outlook was the final piece of the jigsaw in Oracle's own transformation. In the not-too-distant past, Oracle would have fought for every dollar on the table and favoured a more isolated position in customer engagements. But the world has moved on and so has Oracle. Wilson's explanation and commitment to win-win scenarios for all stakeholders brought all of the other conversations during the day to a meaningful and fitting conclusion.
Stay tuned and we will report back from Oracle's flagship Cloud World conference in Las Vegas later in the year.