It is no secret to anyone by now that our access to technology and data is creating increasing transparency in all areas of life – and the salary data, pay fairness and pay equity in particular are no exception. This is having a positive impact on closing any wage gaps and creating pay fairness – as these depend crucially on knowing what gaps are there, why they exist and what specific action can help narrow and completely eliminate them.  
This increased transparency is driven both at organisational level as well as wider government level. Organisations know that more transparency means employees are starting to ask questions about pay fairness and sometimes even seek employment elsewhere if they think that they are being paid unfairly compared to their colleagues internally and externally. 
In addition to organisational pressures driven by recruitment and retention of talent, governments around the world are introducing transparency regulations which require businesses to report on pay fairness on a regular basis.
Some organisations choose to be transparent because they know it will be the right thing for their talent development and growth. As an example, companies like Buffer are using greater openness to try to eliminate the gender gap, and in that attempt has published everyone's salaries and locations on a page that was made available to anyone with an internet connection. 
Governments around the world are also creating a movement for wider transparency. In Germany, employees have the right to know if their colleagues are paid the same. But they have to exercise that right by approaching the HR department and requesting the information. In the UK, gender pay gap legislation requires companies to publish the mean and median pay gap, as well as the distribution of its workforce across four pay quartiles by gender. The US has federal requirements as well as state level ones, with the most recent ones implemented in California and Colorado that require various degrees of reporting and data analytics.
The movement towards wider transparency is also driven by employees, as they have access to more and more platforms where they can anonymously disclose their wages and see how others are paid in similar occupations, across same geographies and organisations. 
This increased transparency is driven at both organisational level as well as wider government level
One of the biggest online platforms to share salary data sits with Glassdoor. Using the platform, anyone can search salaries and compensation at thousands of companies, find out if they are paid fairly, and share their salary anonymously to help others. The platform is also home to employer ratings, company reviews, CEO approval ratings and an overview of benefits. Based on Glassdoor, an ERP consultant's salary in San Francisco is $100k, and you can also see the mean, the median, as well as difference in pay based on years of experience and education. 
BuiltIn is another transparency platform that also shows gender comparison and is specifically focussed on tech and the start-up world. It offers the average base salary, additional cash compensation, and the minimum and the maximum registered on the platform. Average base salary for a client success manager in San Francisco is listed at $101,251. The downside to the system is that you can't search by job role. It has a clunky system where you have to drill down by job category, job title and location. 
There are also platforms like Levels.fyi which are focussed on negotiating on behalf of the candidates, with an emphasis on the Big Tech Giants. In addition to being able to compare benefits at the large companies, you can also look for how much certain roles are paid at different companies. From this point of view, it's more detailed because it compares pay for the same role at different companies. A technical programme manager can be paid as much as $660k at Amazon and as little as $179k at Blackrock. 
In addition to looking at salary, there are platforms that also bring the added value of live conversations from employees about their roles and pay. As an example, Blind has a thriving user platform with people sharing salary information and employee comments largely in engineering roles in the Big Tech Giants and start-up sector. 
The user platform includes leaked emails with serious implications for diversity and inclusion in different companies, as well as conversations by people who are trying to decide between several employers. As an example, when it comes to a product manager role, this is how users are trying to decide between Twitter and Coinbase: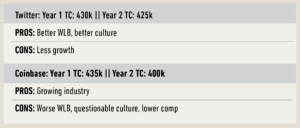 While this transparency is created and leveraged by governments, organisations and employees, it's important to remember that salary transparency is not always great when it comes to the individual. In fact – transparency of someone's wage history could have a negative impact on the offers they get while they progress in their careers or change jobs, and therefore their pay in the future. 
To prevent this, the salary history law in New York (introduced in 2020) prohibits employers from asking applicants or current employees for their wage or salary history as a condition of consideration for employment or promotion, and from asking other employers for this information.
If we want to make the most of this transparency with a view of getting fair pay right, the focus should be on getting the right balance between organisational transparency, and individual privacy. Between organisations catching up with how various online platforms are creating transparency, and how their employees are requiring that transparency to take decisions about their careers, the key is to remain focussed on the bigger picture: knowing what the gaps and barriers to fair pay are, why they exist and what specific action can help narrow and completely eliminate them.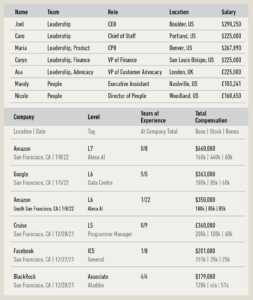 Dr Zara Nanu is CEO of Gapsquare