Workday is on a mission to shake up the world of enterprise software. In line with this purpose, it has launched an ongoing webinar series that will help ready businesses to conquer their challenges in face of an uncertain future.
In recognition that an enterprise needs to put on its own safety belt before it can  inspire customers, the webinar series is aimed at helping organizations take a good look inside their own business.
Below you'll find a series of upcoming and on-demand HR webinars that can help customers get the very best out of their workforce as an essential component of thriving in and overcoming the challenges ahead for all businesses.
Upcoming events from the Workday webinar series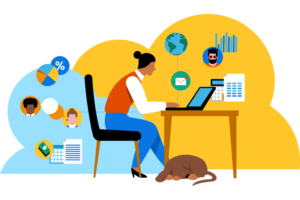 Meet the demands of your workforce with employee experience and engagement – May 4 2023
Workday joins forces with Accenture for a webinar exploring how organizations must invest in solutions that focus on what really matters for employees. With this session, learn how to actively listen to employees and build holistic employee engagement metrics.
Speakers include Ella Bernasconi, solutions marketing manager for Workday; Jordan Wade, senior product marketing manager at Workday; Katie Baker, Accenture's global director of HR solutions and Ed Miller, global workday growth and strategy lead for Accenture.
Driving effective strategic workforce planning in your organization – May 16 2023
Workday joins forces with KPMG to stay ahead of workforce needs in a competitive talent market. The session focuses on building an effective workforce planning strategy by examining lessons learned and using Workday Adaptive Planning as a tool.
Speakers include Suzie Morgan, human capital advisory manager at KPMG; Subrat Mishra, advisory enterprise solutions manager at KPMG; Andi Perger, senior product marketing manager at Workday and Scott Guinn, solutions marketing manager at Workday.
On-demand videos from the Workday webinar series
Responding to the skills imperative
Time to dip into the Workday archives, starting with this session featuring Workday's Liz Jennings, principal product marketing manager; Marieke Shukla, principal product marketing manager and Chris Kim, principal product strategist.
Noting the one billion workers that require upskilling by 2030 and a 42 percent skill turnover over the next three years, Workday has focused this webinar on helping organizations master the reskilling challenge.
Advancing belonging & diversity with employee listening
Learn how Workday Human Capital Management and Workday Peakon Employee Voice can support belonging and diversity initiatives by helping you truly understand employee needs.
Power better, faster workforce plans and decisions
This session is focused on equipping the leaders within your organization with instant and actionable insights to help them make informed decisions and take on the challenges of today's business climate head-on. Workday partners with Howard Hughes to explore how Workday Adaptive Planning and Workday analytics capabilities can help to drive an agile enterprise.
Helping your employees thrive in uncertain times
Empowering your employees throughout their entire career journey means keeping them happy and engaged in today's competitive talent market. This involves helping them express their voice, leverage their skills and explore internal opportunities.
Learn how Workday empowers its people at every stage of their careers.
Workday's webinars run across many facets of the modern enterprise. View upcoming and on-demand webinars for finance, IT and HR departments here.