This is an independent ERP Today publication written in collaboration with UiPath and its key partners. The resource contains original articles, case studies and analyst reports covering the full spectrum of UiPath's proposition.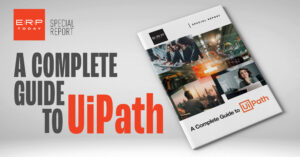 Download > A complete Guide to UiPath.
Also check out the UiPath Channel here. An independent channel dedicated to UiPath partners and customers with all the latest news from the UiPath ecosystem.
Quotes from Rob Enslin, CEO at UiPath, taken from our exclusive cover story.
"Automation has the potential to solve the hardest problems that companies face whilst improving employee experiences," he said. "With the power of the UiPath platform behind them, organisations such as Uber, the U.S. Army and EY are changing how repetitive work is completed which drives huge efficiencies, improves processes and allows people to focus on higher value tasks."
"UiPath is becoming the strategic partner for companies that want to optimise their processes and digitally transform," said Enslin. "Our Business Automation Platform can discover, capture, test and execute automations across the enterprise and we are transitioning from a company that just sold RPA to one that delivers automated business outcomes for our customers."
"Our RPA solutions have historically been utilised at a department level where they solved an isolated problem. It wasn't really transformative but it did deliver efficiencies. As customers start to look more holistically at their digital transformation objectives, they realise that they need an end-to-end solution, and that does start to really transform how a process works and starts to drive outcomes that can be measured."
UiPath has been the market leader in automation since automation has been a thing and Enslin's appointment as co-CEO strengthens that position considerably. Although he still thinks of himself as an engineer at heart, it won't be his technical nous that drives UiPath forward – it will be his considerable experience at building big and scaling. 27 years at SAP provides the lens to visualise UiPath's journey from a seller of RPA to a strategic and integrated partner for transformation. Enslin's network and reputation elevate the brand while his experience with large-scale programmatic solutions puts UiPath into a different orbit altogether. Its alliances with the world's most influential consultancies propel UiPath into conversations that it would not otherwise be part of and opens up immeasurable opportunities to extend its footprint giving UiPath a seat at the table when big enterprises make big investments.
The value proposition is clearly defined and offers a direct line to a return on investment. Coupled with this easily-quantified benefit is the speed at which automations can be implemented. Time to deploy and value have always been hot potatoes for the enterprise tech industry as many of the traditional vendors have been far less able to demonstrate dollar spent for dollar returned, and definitely less able to give accurate timeframes to get solutions working.
As the interview draws to a close, I asked Enslin to reflect on our conversation to summarise the UiPath strategy and set out what we can expect to see in the next stage of its progression. "We are ready to re-accelerate growth and human achievement by putting the full weight of UiPath technology behind our customers," he said. "Our move to platform pricing and focussing on outcomes will be a game-changer for UiPath and the organisations that we work with. Daniel and I have a shared vision of how to create a generational company and we are poised to play our role in modernising the enterprise and helping customers achieve their digital transformation objectives with products and services that deliver measurable value in rapid time."
In today's harsh economic climate, enterprise leaders must evaluate opportunities that can deliver value and outcomes in weeks rather than years and that pushes automation and companies like UiPath up the priority list. Doing more with less is something that every business is coming to terms with, and UiPath promises big wins, fast.