When Nathan Moores set foot in a Public Accounts Committee (PAC) meeting at Portcullis House in January, he was, in his own words, "a little nervous". It was the first PAC gig for the shared services strategy director at the Cabinet Office, during which the focus was on the shared services cluster strategy. Through five clusters, the ambitious plan is to bring eight central government departments running unconnected ERP, HR and finance systems under one SaaS roof.
Shared services budgets and project progress were up for scrutiny once again by the PAC, and with good reason. Government department back-office operations cost around £500m a year to run. As the committee said, despite numerous attempts to reduce costs by implementing shared service strategies, "little progress has been made".
It seems a tough one for Moores, the latest in a line of civil servants tasked with the shared services challenge. In December 2012, a Cabinet Office statement claimed that shared services would "save taxpayers up to half a billion a year". And yet, in 2016, a PAC report said that rather than save money, shared services were actually costing the taxpayer an additional £4m. 
In 2018, the Government published a new shared services strategy, later updated in 2021, announcing it would save "millions by 2028". A recent Cabinet Office statement actually raised the stakes, claiming the latest iteration of shared services will actually save taxpayers £1.8bn. 
For ERP vendors, consultancies and, more recently, cloud service providers, government IT modernization must feel like the gift that keeps on giving. Moores though is understandably keen to distance himself from the past and forge ahead with what he says is a more pragmatic and transparent style of working.
"We think we've done more in 18 months than they'd done in the previous five years," he claims, adding that "we are taking a very diligent approach to lessons learned from previous programs." 
Moores recognizes the scale and complexity of the challenge and also why there is skepticism. So how exactly is this time going to be any different?
"Three years ago, the Government realized that most departments were buying IT separately, costing between £1.5 to £2bn," says Moores. "And worse than that, as well as costing a lot of money for the taxpayer, you would bake in institutional waste for the next ten to 15 years, however long the contracts were."
Moores' point is that fundamentally, this is about a complete change in structure and outlook. The five clusters, as detailed at the end of this article, are at the heart of this, with each cluster of government departments responsible for its own agenda, budgets and accountability.
This strategy has ditched what Moores suggested was an over-ambitious plan previously of aiming for a single shared system. It's also, in what feels like a veiled swipe at past programs and strategies, about building a strategy based on business cases for change and not on what technology is available at the time.
"We need to be transparent," says Moores. "It is significant amounts of (public) money, so we should always be conscious of costs."
As well as costing a lot of money for the taxpayer, you would bake in institutional waste for the next ten to 15 years.
This need for transparency is reiterated on a number of occasions but, for the moment at least, Moores is reluctant to talk actual numbers, despite the National Audit Office report in 2022 publishing a number of savings targets and costs.
"My nervousness around costs, and the clusters and evidence around costs, is that we've made guesstimates on those," says Moores. "We haven't engaged the market yet. The thing we really want to do now is to get out to the ERP providers, to the SI providers, to the delivery partners, to the consultancies and say 'this is what we're thinking and can you price for it?' Then we can fold that into our business cases and rapidly get approval for it. We'll then know the accurate costs and can get on with delivering."
The business cases apparently run to 100-page documents for each of the five clusters, covering the benefits management case, the economic case, the financial case, the strategic management case and the commercial case. It's a different approach from previous shared service strategies, recognizing that the clusters are business change programs first and foremost, enabled by technology instead of being driven by technology.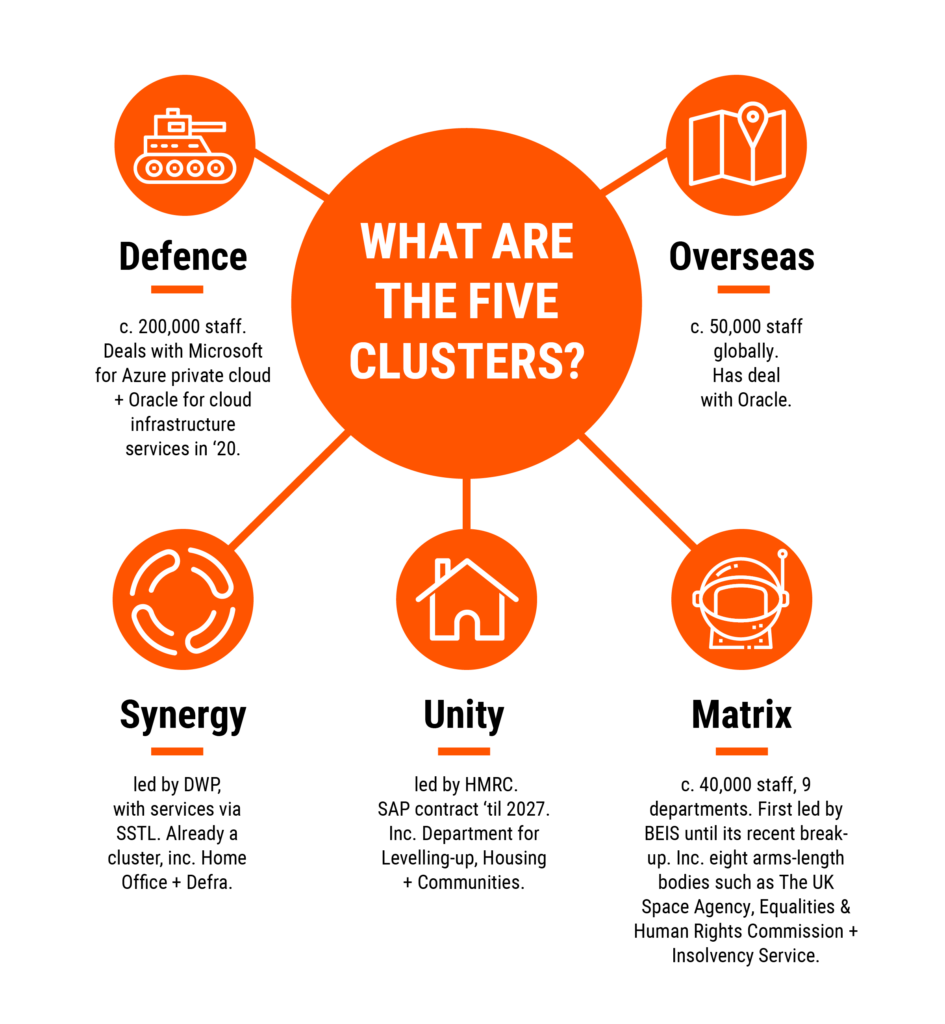 But what about existing costs and contracts? Many Whitehall departments have recently bought their own systems and tied themselves into contracts, essentially undermining the shared services cluster plan.
Moores says those departments that have invested heavily already – like the Home Office, which last year awarded Oracle a £31m contract for its Fusion ERP system to run HR and finance in the cloud – "should maximize the value" of those deals. When these deals are coming to an end, these departments must "dock into their cluster."
According to Moores, this has been part of the complication in designing the clusters and the project as a whole. In other words, managing existing contracts, scoping work for new contracts and ultimately mapping a route towards a true shared service via a maze of varying needs, timescales and vested interests. 
"I think we've all learned a lot about commercial over the last decade and about that baking-in of standard contracts that don't improve for ten or 15 years," says Moores. "So, the conversations that I know that program teams are having is how do we allow that to gain share, where new technology brings opportunities to change?"
My nervousness around costs…is that we've made guesstimates on those.
Data standards: shared services game changer?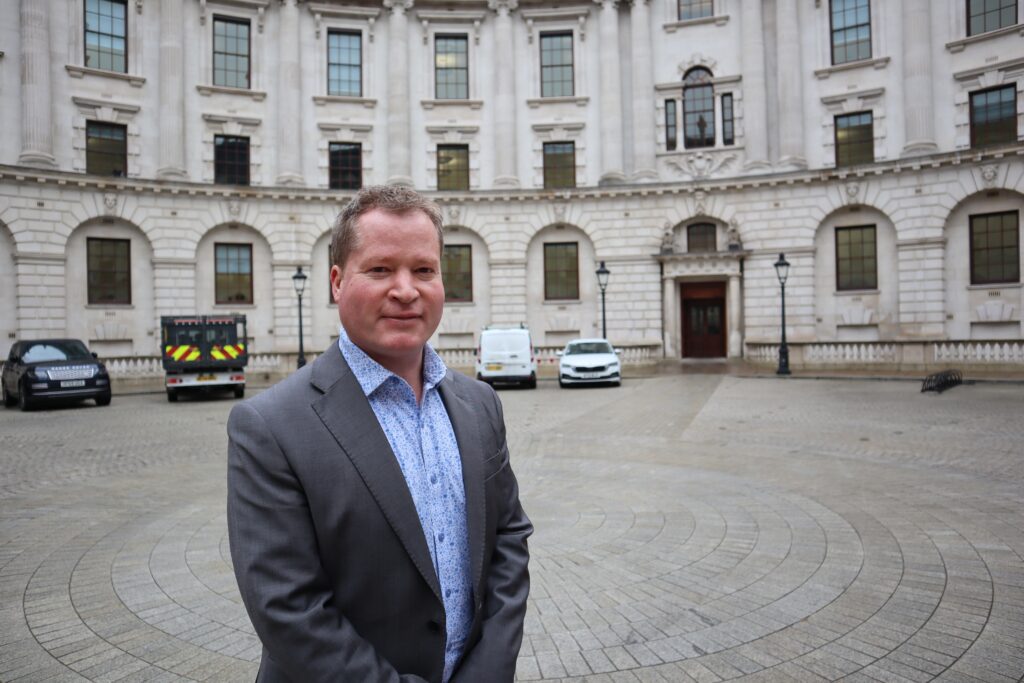 One of the fundamentals of the program is standardization. Moores refers to the fact that previous shared services attempts struggled because of a lack of common standards, as well as the single system plan. He adds that these previous projects "were not scoped properly or stress tested" but, above all, they lacked the ability to share their most common denominator – data.
"One of the key things we're doing differently this time is we've got a piece of work we call the functional convergence program, which aims, for the first time, to have a set of data standards and a set of data process standards for the whole of government."
Moores says it means an end to "bespoke service requirements" which also "reduces risk to implementation, reduces time of implementation and will make it cheaper to deliver the change programs." He adds that ERP vendors are already asking for it and this "standards bible" should of course make for a far more interoperable civil service.
It aims, for the first time, to have a set of data standards and a set of data process standards for the whole of government.
That, for the moment at least, is the theory. Until then, Moores suggests there will be some movement in the next quarter, certainly around initial engagements with consultancies and SIs. He admits he is already working with EY "to help us drive further on the benefits"; two more announcements are due in the coming months.
"I would imagine that when the bids come in [from the tender], they would be led by some of the big providers," says Moores. "But what I'm hearing from conversations with the market is that they're starting to look at potentially partnering up with other SMEs to help deliver that, because they're aware that there's a potential capacity and knowledge issue here. So, it's starting to look like there's going to be a broader church, a broader architecture of organizations that will be involved in the actual bid process, or in delivering the change programs."
Does Moores, therefore, have any idea of what success will actually look like and how it can be measured?
"In my head, I'd like something that shows the user experience, so maybe a Net Promoter score. I'd like something that looks at cost. And I'd like something that measures change and improvement as core indicators."
He adds that the overall program has to look to the future also, recognizing that "in ten years' time, the shared services arena could look really very different to what it is now." He comes back to what he says are the principles being instilled in all of the clusters. If they follow the plan, the future, to a certain extent, should look after itself.
"First off, work as a cluster, and form a single service center, with one shared services organization and one core ERP, and then your wider architecture around that."
Moores makes it sound straightforward though it is anything but – as mentioned, government shared services have a raw and difficult history. However, the proof of Moores' optimism will be in the delivery and, with a £900m budget to spend, ultimately in the numbers.
As one of the largest shared services projects of its kind, this is definitely one for the enterprise world to watch. 
There's going to be a broader church, a broader architecture of organizations that will be involved in the actual bid process.
This article is the first in a series on ERP Today exploring the UK government's shared services strategy, exploring the below five clusters which are planned to undergo IT modernization.
Defence – circa 200,000 staff, with its own internal complexities and security requirements. Signed deals with Microsoft for Azure private cloud and Oracle for cloud infrastructure services back in 2020.
Overseas – circa 50,000 staff, but complex due to linking with systems globally and staff being embedded in other countries. Currently has a deal with Oracle.
Synergy – led by DWP, it is currently consuming services from SSTL and is already a cluster. It includes Home Office and Defra and needs to procure new ERP and services.
Unity – led by HMRC, which has an SAP contract in place until 2027. Also includes Department for Levelling-up, Housing and Communities.
Matrix – circa 40,000 staff, across nine departments, originally led by BEIS until its recent break-up. Also includes eight arms-length bodies such as The UK Space Agency, Equalities and Human Rights Commission and Insolvency Service. Tendering for new ERP and services.