The ERP Today's Young Professionals Network (YPN) celebrates and connects under 30s who are working in enterprise technology. Chaired by Yasaman Shayesteh, the YPN is led by a council of brilliant young professionals working in the industry. As outreach, access and engagement is so important to the council and their intentions for the network, the YPN attended the Enactus fair at the ExCel on 11th April 2022, so as to engage young, fresh talent.
Enactus is a non-profit organisation that promotes social entrepreneurship amongst young 'next gen' leaders. The YPN was kindly invited to attend its Expo. The council therefore had the opportunity to meet and network with hundreds of future leaders and introduce them to the enterprise tech sector via our excellent and blossoming YPN.
The YPN was launched in November 2021 as a platform for young professionals in the ERP industry to connect and interact with likeminded people. It is the only independent network for young professionals in enterprise technology and offers a great forum for discussion and development. At Enactus, it was refreshing to meet so many enthusiastic and motivated young people at the first in-person event in a long time.
We were pleasantly surprised by how engaged and proactive the attendees were to explore new opportunities. It was an illuminating day, discussing and learning about the aspirations and values of today's young professionals. The recurring themes of sustainability, diversity and accessibility are values closely shared with ERP Today's YPN.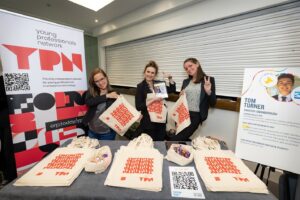 Image includes (from left to right) members of the YPN Council: Carla de Klerk, Kate Moran, Avalon Ridler.
We were thrilled to receive so many sign-ups throughout the day at Enactus. We hope that the YPN can provide a platform for continued conversation, where we can share opportunities in a fast-paced industry in which young professionals are expected to adapt and innovate.
We're also so excited to announce that on 17th November 2022, ERP Today will be hosting the Young Professionals Awards ceremony at The Cutty Sark which recognises the efforts of under 30s and their mentors across ten different categories. As an invitation-only, first event of its kind, this is sure to be an evening to remember. Head to www.ypnawards.com to submit your nomination now.
We welcome all new sign-ups from the Expo! A huge congratulations to the winning teams, and we look forward to connecting with you all in the future. Please get in touch if you have any ideas for what the YPN could be doing to support young professionals further.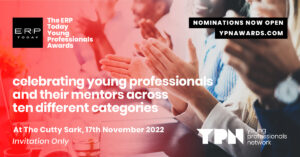 Written by Avalon Ridler, Carla de Klerk and Kate Moran.