It's no April Fools' gag: as COO Andy Green tells me, Arcwide was formed on the first of April 2022, and is keen to celebrate its one year anniversary in style.
There's a lot for the system integrator (SI) to be jubilant about. When it was announced at IFS Unleashed in Miami last year, Arcwide – a joint venture between IFS and its platinum service partner BearingPoint – arguably had its work cut out to earn its wings in the space. Many wondered as to why IFS would create its own SI with a 50 percent stake, considering the heavy risk of putting the vendor at odds with its established partner ecosystem.
One year later, and that particular detail no longer seems to be a dominant line of topic with Green as we talk in Arcwide's London headquarters. As the chatty and open exec puts it, "we're over 300 people now – and we make money. We actually make a profit."
The last year has seen the new operation make over €60m in sales, with 21 go-lives to be delivered this year at an average of €2m each adding to Arcwide's coffers. The company is also on track to employ over 500 consultants by the end of 2023, and already has a Chicago office to its name in the States.
"We've done it without reaching out to the market," Green enthuses. "IFS Unleashed was really important because when I stood up on stage, I really felt like I was announcing Arcwide to the marketplace. We feel now we've got our message across, people know who Arcwide are and what we do."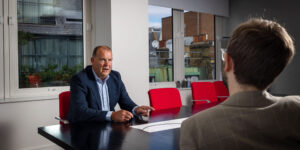 It's still worth mentioning that BearingPoint has a "bearing" in all this. Arcwide shares its London HQ with BearingPoint, along with other regional headquarters. The BearingPoint logo is on the wall, on the screens and more in the office we chat together in. 
It was pressure from considerable IFS rival SAP on BearingPoint which forced the spinning out of a separate IFS consultancy in Arcwide. As ERP Today learned last year, Arcwide came from a brainstorming session between Marc Genevois, IFS' regional president of Southern and Western Europe and Latin America, and the MD of BearingPoint France, Philippe Chaniot.
Given its established relationship with SAP, the hands of the latter company were tied when it came to doing more business with IFS. As IFS started winning more business with BearingPoint, SAP began to make its disgruntlement known.
Necessity begat innovation and Arcwide was created to manage the risks, with a name that came from another brainstorming session between Green and other execs.
"'Arcwide' came from nowhere," laughs the COO. "It means nothing, it stands for nothing. It's just a name!"
That name is out there though, side-by-side with BearingPoint's. Arcwide shares service-level agreements with the original company and runs its back office off  BearingPoint systems. 
"The relationship with BearingPoint has never been stronger," as the chief operating officer says. "Culturally it's important we fit together. Operationally it's important we fit together… What BearingPoint gets off the back of it is they don't have an IFS consulting organization. That's why Arcwide is here: they get the change management, they can deliver training, they can do integrations and data migration."
And while BearingPoint remains a behemoth, Green puts down Arcwide's current success not just to its IFS-centric operandi, but also "the personal touch" from being a smaller, nimbler player.
"We have regular calls with everybody, and we try to make those calls enjoyable," the exec elaborates. "They feel like we're people, and not just a COO and a CEO."
Arcwide, the "preferred partner"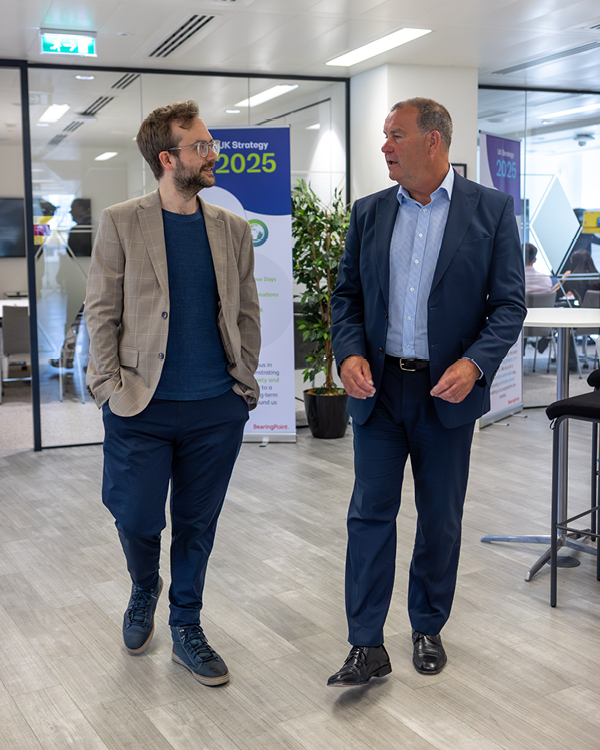 Whether that personal touch can stay in play in future is an open question. There is talk of acquisitions in the UK, US and DACH, as part of a plan to bolster Arcwide's reselling capabilities. 
"We are not a reseller, so we don't sell licenses. We just started doing it in France but we don't do anywhere else, and that's actually something we've always had in our business plan, to become more of a reseller from a license perspective."
This proposition will include application managed services, taking Arcwide into "direct competition" with IFS, as Green says. 
"They know that, we know that, and it's sort of a gentlemen's agreement that if we're up against each other, we work it out."
This turn in the conversation leads me to ask the obvious question about the exact arrangement between Arcwide and IFS considering its place in the partner ecosystem. As a Platinum Elite partner, IFS fills Arcwide's funnel from a sales perspective – but there's more to it than that.
It's sort of a gentlemen's agreement that if we're up against each other, we work it out. We make money. We actually make a profit – Andy Green, COO of Arcwide.
"We absolutely have a contractual agreement with IFS as to what we can and cannot do. That's outside the partners' success agreement that we have with IFS. So, we have a joint venture contract which says this is where we operate, and that we are the preferred partner. 
"A lot of our partners don't like us saying it, but the contract actually does say 'preferred partner'… Contractually we can operate in certain regions under particular circumstances. [And] we do stick to the contract, but we talk to each other, right? Half of us are ex-IFS, anyway. The French worked with IFS for goodness knows how many years…
"So that's how it works: both contractually, and a gentlemen's agreement."
The COO does add though that it's not always "as easy as that", and indeed, IFS still places great importance as ever on its partner ecosystem. Shortly after interviewing Green, I got the chance to speak with IFS CEO Darren Roos at the IFS Connect event in Birmingham, UK. When asking Roos for a general comment on Arcwide and the ecosystem, he responded:
"A bunch of the work happening now with customers on their upgrade path is being done by partners and we support [that] with our Success Service, but by and large partners are running those programs and that's the way it should be.
"So Arcwide are an important part of it, but they are just a part of it. While we help to incubate the business and are a shareholder in it, I've been very clear that frankly we would do the same thing with any other partner that wanted to do it. We don't favor them."
Later Roos points to Arcwide's rapid growth as an example other partners would like to follow: "If you're a partner in the space, you need to get focused because there's loads of work that you can win."
Looking at the bigger IFS picture, it could be argued that the company may see its future as more partner-centric in how it delivers its services to customers. If that's the case, then Arcwide has already set the template for future partners IFS invests in.
In the present moment, IFS and Arcwide are, as Green puts it, working "in tandem" to deliver transformational services. He reminds me that not all IFS customers are in the cloud – 30 percent according to figures from IFS Connect – and that this customer segment is earmarked as "on the path to evergreen".
"We're going to take on the path to evergreen, and that's our big business interest this year – picking up as many transformational projects as we can."
Arcwide has certainly hit the ground running with ambition – and it's no April Fools', folks.