Bill McDermott Dreams Big. His aspirations are not bound by convention nor are they constrained by tradition. They are driven by a conviction that anything is possible and we all have the ability to reimagine our future on whatever scale we conceive. McDermott talks in terms of exponential thinking – radically disrupting classical concepts by discovering new solutions to problems that have puzzled us for decades. There is no ceiling to his ambitions and he unashamedly sets astronomic targets which few would dare to consider. Winners Dream – the title of his book says it all.
His forte is not invention – he didn't start SAP or ServiceNow from scratch – his gift is a talent for converting ideas into action, aspirations into achievements and ambition into reality. He is an elegant storyteller with an ability to create a picture in your mind so compelling and beautiful that it dances like a fond childhood memory. He is a catalyst for growth, a paragon of determination and a single-minded winner for whom success comes through a mix of intellect, tenacity and sheer hard work. Those qualities, coupled with a brassbound will and an incessant focus on customers, put him into a very rare class of leader. 
McDermott's personal story is well told and documented. The aforementioned book charts the quintessential rags to riches story – an epitome of the American Dream. Whilst I have no intention of recounting his past, it is worth noting from the outset that McDermott is heavily influenced by his formative years and many of the character traits he exhibits today were moulded by early experiences. His values, belief system and determination to win were seeded in his youth and reinforced by his mother who instilled a mentality that still drives him today.
Turning the page
After 17 years of service, McDermott left SAP in 2019 to take on a new challenge at ServiceNow – at the time of his appointment ServiceNow's market cap was roughly $50bn and it employed about 10,000 people. Two years later the team has grown to nearly 17,000 and its market cap is north of $100bn. ServiceNow was the fastest company ever to reach $5bn in organic cloud revenue and has experienced the largest overall growth of any major cloud software provider seeing its value climb by a staggering 700 percent in the last five years. Its customer roster includes household names like Disney, the NHS, BT and Pfizer and most analysts predict its momentum will continue its star-bound trajectory on a scale few have achieved before.
On a recent earnings call [26 Jan '22], McDermott revealed stellar numbers across the board and highlighted "a sustained demand environment" which had pushed revenue to over $1.5bn in Q4 and seen the number of customers spending more than $1m double over the year. "We're growing like a fast moving start-up with the profitability of a global market leader," he said.
Best of all, ServiceNow promises to solve a problem that an entire industry has been fumbling with for a decade: digital transformation. By any measure, ServiceNow's proposition and Bill McDermott's sheer will to win is going to be a formidable force for years to come.
In late December 2021, I spent the day with McDermott talking about his career, life, aspirations and belief that he would turn ServiceNow into the defining enterprise software company of the twenty-first century.
I ask McDermott at the start of the interview why he left SAP and his answer is eloquent and creative. "Why did Brady leave the Patriots? Because he wanted to prove he could win Super Bowls with another team."
For those who aren't familiar with American sports, Tom Brady left the New England Patriots after a 20 year career ending the most successful dynasty in American Football history. Brady held God-like status amongst sports fans and left the Patriots to test himself with a new team – the Tampa Bay Buccaneers. If McDermott can emulate Brady's success, ServiceNow may well be lifting its own version of the Vince Lombardi trophy before long.
"And that's  really the essence of winners. They have a dream. And the dream isn't defined by other people's view of you or the limitations they put on you.
Redefining our notion of transformation
To appreciate the full weight of the ServiceNow proposition, it's important to put aside your current understanding of digital transformation and start the conversation with a completely new perspective. Most people fundamentally confuse digital improvement with digital transformation – they are not the same thing. Digital improvement is the process of making something incrementally better with digital technologies. Digital transformation is the practice of radically disrupting an existing problem or challenge through an entirely different lens. Take Disney as an example: when the pandemic hit, its entire business model had to be flipped because people couldn't go to a theme park or cinema. That's the kind of problem that can't be solved with small additive changes. Using the ServiceNow platform, Disney stood up a streaming service and onboarded 115 million subscribers in a matter of months. When the world turns on a dime, businesses need to be equipped with the technology to execute a new plan in record time.
"We used to talk about just in time but now everything is just in case. Why can Fisker bring an electric vehicle to market with twice the battery range of its competitors? How can Disney pivot their business model so quickly? How can a major bank onboard 5,000 new people at the height of the pandemic? It's all through the ServiceNow platform – that's the secret sauce. By using the ServiceNow platform, customers can spin-up new apps, services and revenue models in days and weeks and that is what makes ServiceNow such a technology sensation."
What does ServiceNow and the Austin Motor Company have in common?
In the early 1900s the motor car revolutionised personal travel. The Model T Ford is famous for bringing motoring to the masses but it is less well known that its design was hideously flawed. Drivers were presented with a bewildering array of levers and pullies that performed a variety of baffling tasks: the accelerator was on the steering wheel, there were two clutch pedals, a reverse pedal and just two speeds, pedestrian or breakneck.
Despite these technical challenges, the appetite for motorised propulsion was a global phenomenon – similar to the current clamour for digital transformation. But, for almost a decade, anyone who could afford a car was forced to accept the appalling complexity of an early Benz or Ford.
In 1916 Cadillac hit on an idea that was to revolutionise the motor car industry. For commercial reasons the idea failed but a little-known UK manufacturer called Austin seized on the Cadillac concept and made the first mass production car with conventional controls – the 7. Austin took the broad concept that countless manufacturers had been grappling with and reimagined the idea with user experience at the heart of their design. Austin's template was licensed to other manufacturers around the world and that basic layout of controls remains the universal standard up to the present day.
McDermott told me: "Our customers now view us as the standard platform for digital transformation."
In every techno-led revolution there is a period of time where manufacturers and vendors scramble to meet demand without a clear understanding of the optimal solution. Eventually a visionary emerges and changes the game completely by presenting the same opportunity with clear and unincumbered simplicity. Remember search before Google?
The tribulations of the embryonic motor car industry are very similar to the challenges that the enterprise tech sector has been dealing with since the turn of the twenty-first century. In the twenty years or so that we have been wrestling with digital technologies our collective efforts have increased the complexity of doing business, not simplified it. Human experience in the workplace is mired in a perplexing mishmash of disconnected apps, interfaces and notifications. IT architecture is less integrated now than ever and the number of levers and pullies that we are using to control our digital solutions has spiralled uncontrollably – we've built a Model T when we needed an Austin 7.
The art of exponential
 

thinking

ServiceNow presents a fundamentally differentiated solution to a problem that others have sought to solve with iterative improvements to existing ideas. The traditional technology vendor's approach to meeting the challenges of a digital world has been to repackage a pre-existing concept – of course, contemporary ERP suites are infinitely improved when compared to legacy solutions of the 80s and 90s. But it's still the same basic solution. It's still the same fundamental design just re-engineered for the cloud with a new badge and shiny sticker. It's still a Model T. 

Moving to the cloud, reducing TCO, improving UIs and putting an end to customisations and upgrades are all noble efforts but they don't address the foundational challenges of twenty-first century business and, more importantly, how people work in 2022.

To solve old problems we need new ways of thinking. As McDermott told me: "You've got to go from linear thinking to exponential thinking. Everything is possible with exponential thinking. It's been reported that 75 percent of the Fortune 500 that are on the list today will not be on that list in 2027. Therefore, we have to think of new exponential ways of solving old problems and I see a very clear path to make ServiceNow the control tower for digital transformation."
"You've got to go from linear thinking to exponential thinking. Everything is possible with exponential thinking."
That concept of exponential thinking perfectly illuminates the difference between digital transformation and digital improvement. Most efforts to transform amount to improvements of existing systems and processes. Transformation takes the concept of exponential thinking by radically disrupting convention with a completely fresh approach. McDermott doesn't talk in terms of making things better. His vision is on an entirely different vista to making small iterative improvements – better is not good enough to solve the challenges of the twenty-first century. When we discovered that putting asbestos in roofs was a bad idea, we didn't make it better by putting less asbestos in. We totally changed the way we thought about the problem and came up with an entirely different solution. That's the essence of exponential thinking and it's at the heart of the ServiceNow playbook.
What is ServiceNow?
From a user's perspective, let's think of it in terms that are familiar to us: take the way that the smart phone has revolutionised our personal lives by providing a simple, single pane of glass to manage all the apps that we use to check social media, monitor our health, order food, call a taxi or buy household goods. Behind the sleek glass screen on your iPhone there is an iOS platform that harmonises the experience and hides the complexity of hundreds of unique applications, created by thousands of different developers. Although built on a common framework to particular standards, the apps are all different but your experience of them is similar. You interact with them through a simple and prosaic interface and behind the scenes they are connected through the platform to allow single sign-on, a unified payment gateway and a common user experience. 
That's essentially what the ServiceNow platform does for business users by creating a new layer – a layer of simplicity and action – that sits above traditional applications and processes and offers the user a unified experience with all the complexity abstracted away. The platform can integrate with virtually any back-office operation and allows users to 'connect the dots' between siloed systems creating a coherent workflow that delivers an end-to-end process for almost any business objective. 
Better still, the platform allows users to build their own digital workflows through low/no-code tools so the employee can effectively design their own experience based on how they work and what requirements they have. Creating frictionless applications that span the gaps between legacy solutions makes a massive difference to the employee and allows users to benefit from the same 'consumer-grade' experiences at work as they do in their personal lives. Gartner says that as many as 40 percent of knowledge workers already have the potential to digitise their personal workflows and the ServiceNow platform provides intuitive and uncluttered tools to turn this potential into a reality. 
Innovation in a box
Beyond user experience, connecting siloed systems and legacy applications, ServiceNow's potential is – to coin a phrase from McDermott – exponential. Consider just a few totally separate but equally challenging problems which transcend virtually all domains: like recruiting and onboarding, meeting ESG targets and building direct to consumer channels.
Take the process of recruiting a new employee – a process that is traditionally confined to the HR function and managed in some sort of HCM application. That traditional HR system will be suitable for a significant part of the process but its limitations are revealed as the onboarding workflow moves through the organisation – can the HCM talk to procurement to ensure that the new employee has their laptop on day one? Can that process extend to the IT department to ensure that that their laptop is correctly configured? Is the legal team looped in to ensure that contracts are signed? Has facilities issued their access permissions? Is the HR team able to map out a complete journey for the new employee which starts with their application form and ends with them sat at their remote desk ready to work? And, most importantly, can the HR team visualise that process as it flows across the organisation through a single lens?
Mapping and managing that end-to-end process for the new recruit delivers a seamless onboarding experience for the employee but the benefits of this workflow evolution are felt in even greater measure by the HR team that is executing the process. How did the HR manager design and accomplish the onboarding process when it cuts across so many different functions within the organisation? On the ServiceNow platform – using citizen developer tools to create a journey that didn't require any re-engineering of existing back-office processes, just a new workflow layer built on top of all those disparate systems to join the dots.
This is just one example of a process that is repeated thousands of times a day across millions of organisations around the world – and the same logic can be rolled out exponentially across virtually every major challenge faced by today's CEO – whether that's sustainability, access to talent, new revenue models or customer engagement.
Worried about your ESG commitments but unsure how to turn aspirations into action? No problem, ServiceNow allows enterprise leaders to turn goals into execution by creating a silo-defying mesh across multiple objectives and delivering visibility, metrics and evidence to support ESG objectives. McDermott told me, "We're the first company that ever brought a solution in a box that can take all these islands of automation and converge them into one ESG format. Every CEO wants to deliver on their ESG goals but how do they manage it? How do they measure it? How do they see the data in real-time to make a difference? – it can all be done on the ServiceNow platform."
Need to spin up a new sales strategy or deliver a different service because your customer base has moved or a new market has emerged? Easy, take NHS Scotland as a prime example where they stood-up a vaccine management programme for an entire country and developed a solution to support staff through the pandemic in weeks rather than months or years. 
The ServiceNow platform allows sales teams, marketing departments, procurement specialists – whole companies in fact – to conceive and execute on new ideas in a timeframe that has never been possible before. As Josh Bersin comments elsewhere in this issue of ERP Today, "ServiceNow can build and deploy enterprise software faster than almost any I've ever seen." And that agility extends from the ServiceNow development teams through to the customers' own ability to convert ideas into action too. The platform is built in such a way that anyone can design and implement a new process or solution almost as quickly as it can be conceived.
For more examples of how the ServiceNow platform is being used to reimagine work, check out the case studies in the accompanying supplement to this issue – A Complete Guide to ServiceNow.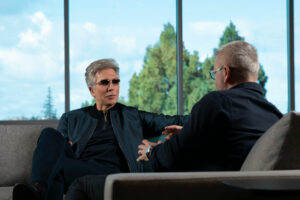 "We're the first company that ever brought a solution in a box that can take all these islands of automation and converge them into one ESG format."
Application tsunami and a system of action
It is predicted that about 500 million new apps will be created by 2023 – that's more than has been developed collectively in the last 40 years. The no/low-code application tsunami is going to permanently disrupt how software is created and deployed – and in turn – will radically transform how individuals work. These new applications will be designed to span the gaps in workflows, bridging the void between traditional systems of record and the 'action' layer that is needed to execute in a data-driven digital world. 
Many organisations may be unaware of these 'voids' and struggle to identify process inefficiency. But fear not, ServiceNow has tackled that problem too with a new strategic partner. Celonis is effectively a process mining platform that can 'X-ray' an entire company's IT landscape and process architecture to reveal sub-optimal design and intuitively recommend opportunities to create more performant workflows. Just imagine the potential benefits to a global enterprise that has hundreds if not thousands of processes covering all of their operations – at a stroke, Celonis is able to identify the weak spots and suggest improvements which can be made using the ServiceNow platform.
"We are taking this relationship with Celonis and applying automation that truly moves the needle for organisations. We're delivering the ability to understand how work flows across people, processes and systems," said McDermott. "Our engineering teams have created a seamless product experience that's going to make it easy and simple for customers to get insight into processes across multiple enterprise systems, converting that insight into action."
Competition with traditional vendors
McDermott and ServiceNow consistently say that "others don't have to lose for us to win", stating that the ServiceNow proposition is more about enriching existing investments in enterprise tech rather than replacing them. Businesses have plunged billions into modernising their core applications, introducing cloud technologies and trying to stay ahead in the ERP rat race. A proposition that asked those same businesses to rip and replace would likely fall on deaf ears. McDermott's positioning is a master-class in understanding market dynamics by presenting the opportunity with a totally different value proposition. He told me that, "We want to lean in and team up with the participants in the market and help them help the customer. And that is a very unique positioning." 
Whether the other vendors see ServiceNow as such a friendly compadre remains to be seen. I suspect that many will feel sufficiently threatened to take action and we can already see some vendors trying to make inroads into a market that ServiceNow has had all to itself for the last three or four years.
"We want to lean in and team up with the participants in the market and help them help the   Customer."
The lines are blurring between core applications and the type of no/low-code opportunity that ServiceNow is pitching. While it's not a play that anyone within ServiceNow is outwardly vocal about, I imagine that its reach into the application market will extend and many enterprises will soon be running ServiceNow apps for much more than simply connecting existing systems of record.
The requirement today is not for a transactional system of record to generate data but for a solution that is capable of actioning that data immediately. And not just confined to a department or line of business – enterprise leaders need the ability to execute based on data and insights that span the enterprise. 
"So those systems of record are fine, but this is a system action. There was a very interesting statistic by McKinsey that said the world will get a $1tn dividend by adopting cloud technologies, like ServiceNow, by the way, by just getting out of the twentieth century architecture into the twenty-first century architecture', said McDermott. "IT architecture is now the business architecture and the business model will be built upon the IT's ability to digitally connect with your consumer."
The identity challenge
I was at pains to write a balanced analysis of the ServiceNow proposition and have taken considerable effort to find holes in the story. But unless I am missing something there doesn't appear to be many, if any at all. Typically, with software deployments there are good, bad and ugly examples. But, in searching for a failed or distressed ServiceNow project – I found none. This is backed up by what McDermott told me during our interview, "In my first 100 days I travelled the world meeting customers and I was expecting to hear the laundry list of things that we could be doing better," he said. "But the only thing I heard was that the team is fantastic. The platform's unbelievable. And the reason is, the platform itself has been designed at such a sensational level of quality and the engineering pride in the company is so fantastic that nobody would put a piece of code in that platform that is not world class."
The main challenge that I can see for ServiceNow is its long-term positioning – is it an IT play where CIOs will be searching their coffers for more investment dollars having already spent big on moving core applications and workloads to the cloud. Or, is ServiceNow a business proposition that circumvents IT budgets and speaks to the heart of the CEO's office?
ServiceNow started life in IT service management and, simply because it's a tech product, it feels like another claim on under pressure IT budgets. But I don't see it as a pure-play IT investment – ServiceNow is a business value proposition that cuts across traditional boundaries and presents a new paradigm for CEOs to weigh-up. If a CEO has already committed to a digital future then I don't see a way forward other than to embrace the tools and technologies that will allow that organisation to flourish by utilising 'the platform of platforms' to harmonise digital experiences across the organisation.
"I see a very clear path to make ServiceNow

the control tower for digital transformation."
McDermott's ultimate dream
McDermott has enjoyed a stellar career but at the age of 60 this may be his swan song. He has worked relentlessly to create shareholder value, build purposeful brands and make a substantial impact. His aspirations are on a scale that few would dare to articulate: "currently at $5bn in revenue – we are going for $10bn, then $15bn by 2026," he told me. But his empyreal dream cannot be expressed in a number. It won't be defined by a share price. Bill's Big Dream is to leave a meaningful and indelible marker on the world by creating a brand that cuts across domains, spans the boundaries between business and consumer and institutes a standard that is as familiar to civilians as it is to CEOs at the world's biggest companies.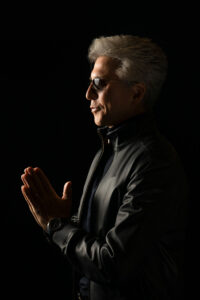 If McDermott can realise the ultimate dream, ServiceNow will become the platform that we all use to manage how we work – having a direct impact, not just on thousands of companies, but on millions of individuals. 
Creating the defining enterprise software company of the twenty-first century may sound like a dream, but in McDermott's world dreams become reality. It will be an incredible accomplishment and a fitting culmination to a life's work. Kathy would be proud.   
The story behind the cover
It's rare to get an hour of a CEO's time. McDermott gave us four and was a pleasure to work with. Our creative director, Ceci Perriard, flew in from Buenos Aires and partnered with photographer Darren Miller to create a set of impactful images that depicted McDermott's strength, resolve and vision. After the cover shoot, McDermott and Esherwood spent two and half hours discussing themes for the story in a one-to-one setting that Esherwood later described as "the defining moment so far in ERP Today's journey". Thanks Bill and all at ServiceNow.